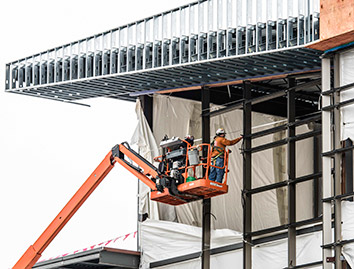 The Indianapolis real estate market this year will continue to gain strength along with the economic recovery, as several sectors are showing more improvement.
That's the consensus from the local office of New York-based Cushman & Wakefield, which held its annual State of Real Estate outlook Thursday afternoon.
"We're quite bullish on 2016," said Chris Yeakey, market leader for the firm's Indianapolis office. "We don't see any slowdowns or hiccups as far as the economy goes in the real estate sector at all."
Yeakey, a former Duke Realty Corp. executive, assumed the reins of the Indianapolis office in November, taking over for longtime leader Jeff Henry.
While most real estate sectors continue to recover, the local industrial market is performing particularly strong.
The absorption rate is as strong as it's been since before the Great Recession began in late 2007.
"Industrial, in some ways, is the new retail," said Kenneth J. McCarthy, Cushman & Wakefield's principal economist.
That's because e-commerce operations are responsible for most of the absorption. Tenants absorbed 5.3 million square feet in the metropolitan area in 2015 while 7.8 million square feet of new space came online last year. Still, vacancy is a very healthy 5.8 percent.
Vacancy is improving in the office market as well, but not at the rate of the industrial sector. The office vacancy rate in the metropolitan area fell last year to 15.6 percent, even though companies are leasing less space.
Developers are building fewer office buildings, which is helping even out occupancy. An increasingly mobile workforce that can work at home or away from the office is leading businesses to cut down on the amount of space the use, said Jon Owens, a Cushman & Wakefield office broker.
But where to locate is becoming more important than ever before, he said.
"Winning the war for talent is driving the decision on where to locate," Owens said. "It is no longer ancillary, it is center stage."
To no one's surprise, the Indianapolis apartment market continues to hum along on all cylinders, particularly downtown, where most of the construction is occurring. Occupancy continues to be about 95 percent, while rents last year increased downtown by 6.5 percent. That compares to just 2.2 percent across the city.
On the retail front, the city's vacancy stood at just 6.3 percent in 2015, compared to 8 percent nationally.
Still, concerns abound about the high number of stores that have closed recently in Circle Centre mall, prompting Mayor Joe Hogsett, a guest at the gathering, to weigh in when prompted.
"We haven't engaged [mall manager] Simon Property Group yet," he said, "but I'm certain we will."
Please enable JavaScript to view this content.