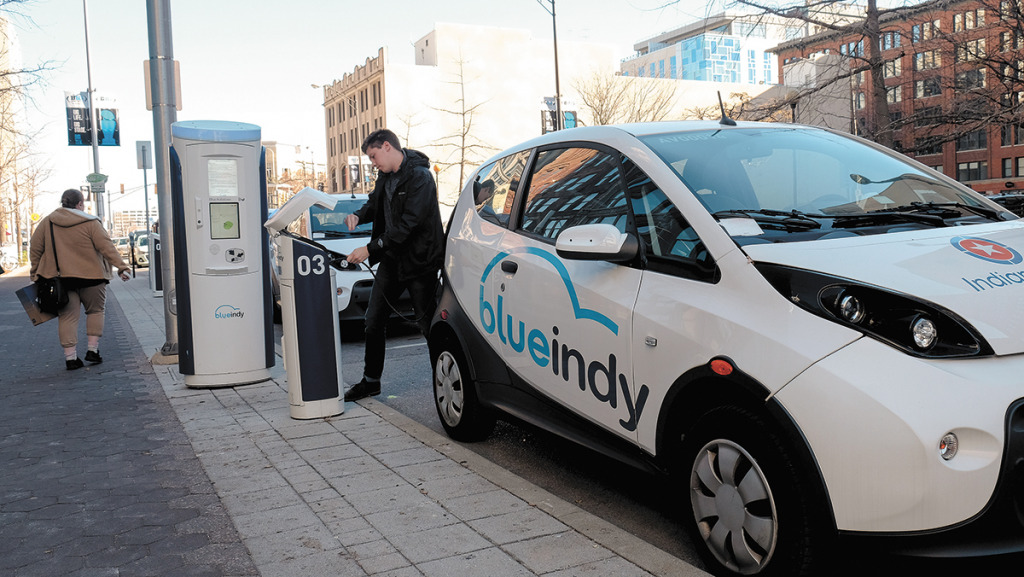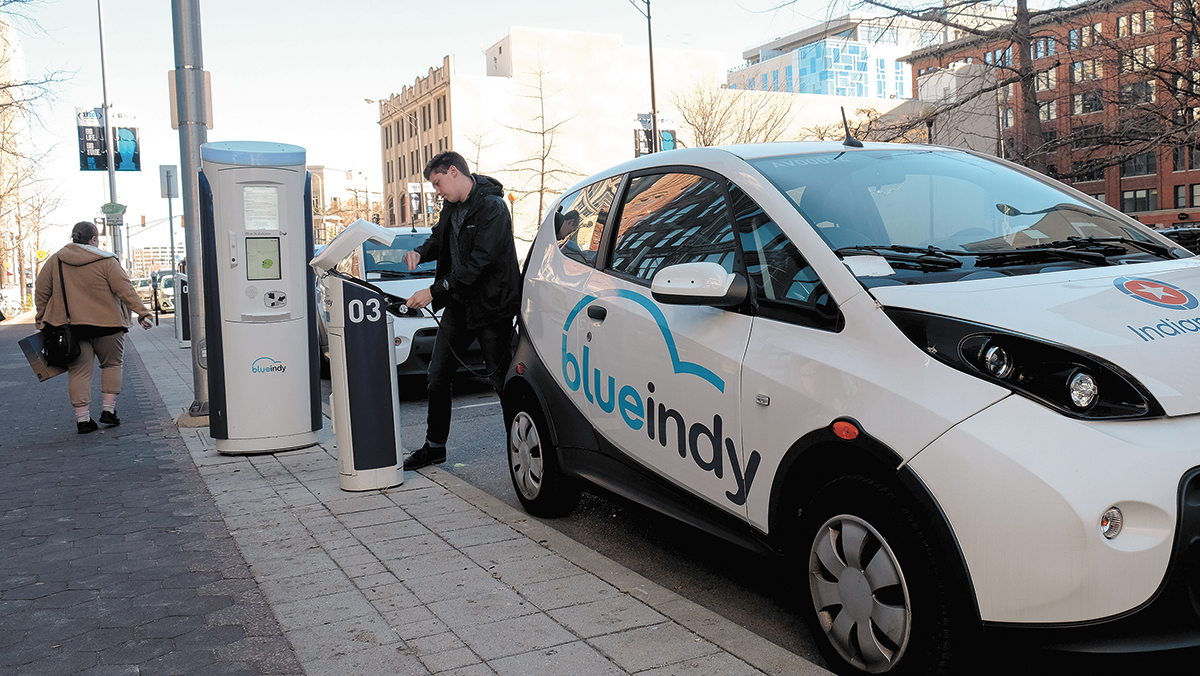 City officials want to turn former recharging sites for BlueIndy, the defunct electric car-sharing program, into bike-sharing stations, bike parking spots and charging stations for electric cars, scooters and bikes—but likely not back into traditional car parking spaces.
The city will release a request for proposals to developers to repurpose up to 42 of the 89 charging stations before the end of the year, according to the Department of Metropolitan Development. The move would come more than a year after Paris-based BlueIndy shut down.
"This difficult decision to end the service has been made because we did not reach the level of activity required to be economically viable," BlueIndy said in a December 2019 letter to customers.
The company launched in September 2015, during former Mayor Greg Ballard's administration. By August 2019, BlueIndy reported 3,000 active members, just 20% of what the company said it needed to be profitable.
BlueIndy ceased operations May 21, 2020. The next month, Indianapolis issued a request for information on how to reuse the below-ground electric charging infrastructure and the above-ground site footprint.
In September 2020, the city waived its option to buy BlueIndy's assets, and instead began a public engagement initiative for more reuse ideas that October. Now, the data analysis for those ideas is done—but parking isn't a priority for spots in Indy's busiest areas.
"With these findings, we plan to continue expanding our network transportation system to facilitate mobility options that are less reliant on cars," said Mayor Joe Hogsett in a news release Thursday.
His administration's "Reimagining the Curb" reuse initiative ties into recent "transit-oriented development" zoning changes that prioritize pedestrians, bikers and other non-car modes of transportation.
Not everyone agrees.
Electric charging "can be done without tying up space in major commercial areas," said City-County Council Vice President Zach Adamson, who led opposition to BlueIndy's use of public parking spots. He suggested parking garages as an alternative site for charging infrastructure.
Adamson said he hadn't gotten complaints from constituents recently—probably because many of the former charging station sites have already informally gone back to being parking spaces.
"In many places, they've been used for carryout delivery, especially during COVID, and a lot of those areas have signs up. They're full all the time," Adamson said. "Nobody's complaining about them because they've basically reverted back to what they were before BlueIndy."
But those spots will likely be replaced with some kind of site offering public electric vehicle charging, bike parking, e-bike docking stations and e-scooter charging, according to Department of Metropolitan Development slides.
DMD hopes to move forward with a proposal on the first 42 spots in 2022. Many are in Indy's core.
Traditional car parking isn't totally off the table.
"There could potentially be locations that are not suitable for other uses at all, which would cause a return to general purpose parking," said a department spokesperson in an email Tuesday. "However, what the former sites may be is by no means set in stone."
Correction: This story has been updated to reflect the correct number of sites included in the city's RFP. The correct number is 42. The city initially provided IBJ with the wrong number. In addition, a reference to the way the project would be phased was removed, after the city changed an explanation about it. You can see all our corrections here.
Please enable JavaScript to view this content.