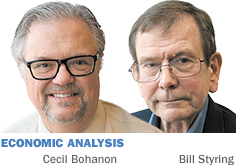 Oil prices have dropped 70 percent. Governments have seen their petro revenue crash. Hydrocarbon heavies Saudi Arabia, Russia and Venezuela got together and tried to get Iran to go along with a production freeze. The objective: Reduce the gusher of crude and push prices back up.
The Saudis et al. tried to reinvigorate the OPEC cartel, which has been nearly destroyed by new U.S. hydraulic fracturing technology. It didn't work. Newly freed from economic sanctions, Iran wanted to pump and export full blast. So the mullahs said no to this latest attempt at rigging the oil market.
This whole exercise should remind us that markets usually work well if left alone. Absent some external enforcement authority, schemes to exploit consumers are hard to put together and harder to keep together.
Successful market rigging almost always relies on government intervention to prop up the conspiracy. In the 1930s, Franklin Delano Roosevelt's Agricultural Adjustment Act bribed farmers with public money to destroy crops and slaughter livestock in a bid to increase farm prices. It worked, more or less. Farm prices rose and farmers were happy. No one bothered to ask low- or no-income grocery shoppers what they thought of the higher prices.
Compare this with a summer job that Styring's father had in 1934. Vegetables weren't part of the AAA. Vegetable growers around Hartford, Connecticut, thought the idea behind the AAA was just swell and decided to mimic it on their own. They quietly got together and agreed to destroy a certain percentage of their produce. They figured, correctly, that the price would rise enough to make it worth their while. They'd all make more profit at the expense of consumers.
Except some members of the cartel decided to cheat. They'd only pretend to destroy the percentage of their asparagus the cartel demanded. They'd quietly sell the excess to make even more money. They hired some kids, including Styring's father, to truck the illicit asparagus to local grocery stores in the dead of night.
The farmers playing by cartel rules noticed prices weren't going up very much and smelled a rat. Pretty soon, they figured it out. They hired guys with guns to "discourage" the vegetable-running college students. Since what the goons were doing was thoroughly illegal, the cops stepped in and the cartel collapsed.
Food for thought. The private cartel collapsed but the AAA cartel survives to this day in the form of USDA marketing orders.•
__________
Bohanon is a professor of economics at Ball State University. Styring is an economist and independent researcher. Both also blog at INforefront.com. Send comments to [email protected]
Please enable JavaScript to view this content.