Once upon a time, Chiang Mai Thai Noodle (815 Westfield Blvd., 991-3332), the new resident of the former Midtown Grill and Mediterra space next to Bazbeaux Pizza in Broad Ripple, would have been celebrated simply for existing. That was back when ethnic restaurants in Indy seemed to be limited to one representative per neighborhood, and something new in the mix was reason to rejoice.

Such pioneers made choices easier—once you selected the kind of cuisine you wanted, the restaurant was a given if you didn't want to drive far.

Now, though, there are decisions to be made between newcomers and established places. For instance, Thai Café—which has helped anchor the strip mall in the 1000 block of Broad Ripple Ave. for years—and Chiang Mai both offer onsite parking. Both have extensive Thai menus. And both offer under-$10 lunch entrees (although you can go higher at either restaurant).

But if you are strolling through the center of Broad Ripple, Chiang Mai's location is a tad more convenient. It's also roomier, with plenty of space between tables making it conducive to longer lunch meetings. And its piped-in music is either distracting or very entertaining, depending on how you feel about violin and piano versions of "Poker Face" and other popular songs.

On our visits to the spacious but undistinguished Chiang Mai, the lunch specials weren't completely successful. The Thai Fried Rice with Shrimp ($9.99) was far from the most flavorful version of this dish I've ever had. My companion was even tempted to add salt, something he'd never done at a Thai eatery. Its shrimp were well prepared, but there were only three. And the small salad and diminutive spring roll included with the lunch special were unremarkable. Even ordered hot, the Pad Kea Mao ($7.99) was relatively cautious, with stir-fried flat noodles in a housemade chili sauce with green beans, bell pepper, tomato, carrots, onions and egg.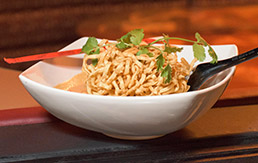 Noodles are the house specialty. (IBJ photo/Eric Learned)
I'm glad we tried again. Far stronger was the Pad Thai ($10.95). Yes, it's something of a cliché—the go-to Thai dish for first-timers. In this case, though, the translucent rice noodles were nicely prepared and not at all gummy, a danger at phoning-it-in Thai establishments. Even better were the Ramen Pad Kee Mao ($10.95) and the Tom Yum Noodle Soup ($10.95), the latter a seemingly endless bowl of broth and noodles with bean sprouts, green onion, cilantro and generous thin slices of chicken. (You can opt for pork or tofu or upgrade to seafood for an extra $3.)

The ramen dish arrived steaming and perfectly prepared, filled with vegetables and tofu chunks (our choice). Since most ramen dishes are served in soups (or arrangements so broth-intensive they might as well be soup), this less-liquid version was a welcome switch. And one that alone could bring me back next time I've got Broad Ripple downtime.

We also indulged in Sweet Sticky Rice with Thai Custard ($4.95) and a bright green Tapioca Pudding ($3.95) that practically glows in the dark. Both were subtle and pleasant, good choices if you're done with your entrees and have more business to discuss.•