It's an unusual assortment of credentials for building something as ambitious as a $500 million medical center.

The leadership team at Athlete's Business Network, a startup that wants to develop a massive sports-medical complex on 130 acres of unused land at the Indianapolis International Airport, doesn't have much experience in such projects.

The company's chief medical officer–a position normally held by a physician, in charge of supervising other doctors and reviewing medical care–is a chiropractor.

The president of its substance-abuse unit is a former front-office assistant for the Indianapolis Colts. He doesn't appear to have a college degree or a state license in addiction recovery.

And the company's CEO is a former doughnut franchise owner who has been through bankruptcy.

Moreover, Athlete's Business Network isn't even registered to do business in Indiana. Its articles of organization were administratively dissolved on April 16, 2015, according to the Indiana Secretary of State's Office. That typically means a company did not file its fees and reports as required and is prohibited from continuing to do business. The company acknowledged it had not filed its annual report but is in the process of being reinstated. Company lawyers say the oversight won't delay talks with the airport because those are being handled by ABN Real Estate LLC, a separate entity registered in Delaware.
Athlete's Business Network is a real estate developer that incorporated in 2009, but has not done any projects. Its plan for building a major medical complex with five buildings, including two hotels, seems bold for a company with no real estate track record.

The project's centerpiece would be a "Global Center for Brain Health," a research center specializing in concussions, post-traumatic stress disorder and other brain injuries.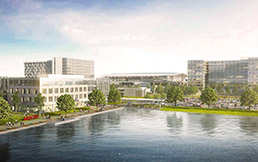 Athlete's Business Network is seeking to develop a massive sports-medical complex on 130 acres of unused land at Indianapolis International Airport. ABN was incorporated in 2009, but this would be its first project. (Rendering courtesy of Athlete's Business Network)
The project also would include a sports performance center, a substance abuse center, a sports medicine and orthopedics center, and sports-themed entertainment and retail.

The Indianapolis Airport Authority recommended ABN's plan last month as one of two winning proposals for redeveloping unused airport land. The other proposal, by South Bend-based Holladay Properties, is still in the works but calls for attracting projects on more than 300 acres along or near West Washington Street.

The projects were rolled out with huge fanfare at a press conference on Feb. 16 and were on the agenda to be formally approved by the airport board on Feb. 19.

But the evening before the board meeting, the airport authority pulled the ABN project off the table, saying the board needed to "further process community feedback and have additional conversations."

The change came just hours after IBJ published a lengthy story raising questions about the financial stability of ABN and the management track record of CEO Craig Sanders. The story revealed that a Dunkin' Donuts franchisee that Sanders launched filed for business bankruptcy in 2009 after losing millions of dollars. The chief financial officer of the franchisee was later convicted of stealing nearly a half-million dollars in company funds.
Supporting cast

Now, a closer look at some of the others on the management team is raising further questions about whether the group has the kind of credentials normally associated with developing a major medical center.

ABN's chief medical officer, Rob Schroeder, is a chiropractor and president of Indy Health and Fitness, a clinic and gym on Guion Road on the northwest side. The facility is incorporated as Robert Schroeder DC LLC.

On ABN's website, Schroeder is described as the owner of "very successful practices in sports performance and rehabilitation, working with some of the most notable names in professional sports."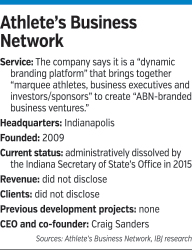 It was unclear which "notable" professional figures Schroeder has treated. He declined to provide any names, citing patient privacy laws. He said he has been practicing for 23 years in California and Indiana and has more than 14,000 patient files.

"Our facility and services have provided chiropractic, therapy, athletic training and sports performance to hundreds of professional and world class athletes," he wrote in an email to IBJ.

When asked why a major medical center would appoint a chiropractor as its chief medical officer, Schroeder said his role was to assist ABN "with the development of their health services model and how to integrate the many specialties that the ABN will provide as part of its health care division."

He said the title of chief medical officer "may change once ABN establishes all of its health care partners and adds additional resources."

Some physicians expressed surprise that a chiropractor would be named chief medical officer. The title is normally reserved for a medical doctor who is responsible for all medical care in an institution and who supervises other doctors.

"I find that weird," said Dr. Allan M. Block, a neurologist in Scottsdale, Arizona. "If he's not a medical doctor, I can't see how he could be supervising a medical staff. It should be the other way around. A doctor should be supervising him."

In an interview last month, ABN's Sanders called Schroeder "a dear, dear, close friend of mine." He said Schroeder's main duties would be to "provide oversight of the business operations, the administrative billing and the strategic rollout of the health care platform."

It's unclear how those administrative duties would overlap with the position of chief administrative officer, another leadership position on the ABN website. That job is held by R. Arne Pedersen, who formerly worked as executive director of Anesthesia Consultants of Indianapolis LLC and as a manager at Anthem Blue Cross Blue Shield.

Another ABN leadership position is president of the "dependency and substance abuse unit." The person in that position, Scott Gorman, is described as a "leading addictions recovery expert and interventionist."

"For more than 20 years, he has specialized in the treatment of high-profile clientele including entertainers, high-profile athletes and business leaders," according to ABN's website.

Gorman could not be reached for comment. An ABN spokeswoman could not say which high-profile clients he has helped with recovery.

Gorman is not licensed by any of Indiana's professional licensing boards, including the Behavioral Health Board and the Psychology Board, and does not have an Indiana license in addictions recovery.

He previously worked as an executive assistant in the front office of the Indianapolis Colts, according to the team's website.

On his LinkedIn page, he describes himself as a "board certified interventionist and recovery coach" and noted he is certified as a "peer recovery specialist" by the International Certification & Reciprocity Consortium. The consortium is an umbrella organization of state groups specializing in substance abuse recovery.

Kristen McLaughlin, coordinator at the consortium's headquarters in Harrisburg, Pennsylvania, said Gorman earned a "peer recovery credential" from a Connecticut certification board. She declined to say what qualifications were needed to earn such a credential or to provide a sample copy of the exam or application.

She said the credential does not mean Gorman is qualified to be a clinical therapist but "can help someone in recovery navigate through the system."

"It's not that stringent of a requirement," she said, adding many people with the credential are volunteers and have been in recovery themselves.

According to his LinkedIn page, Gorman studied communications at Western Michigan University. But the registrar's office there said he did not graduate and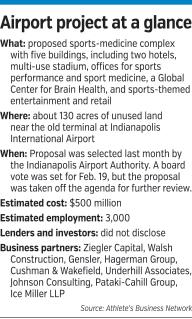 attended for only two semesters.

Concussion expert

Despite some questionable qualifications on the leadership team, ABN was able to attract a nationally known neurologist to lead its proposed brain health research center. Dr. James P. Kelly is former director of the National Intrepid Center of Excellence at Walter Reed National Military Medical Center.

Several other neurologists around the country who have worked in concussion research speak highly of Kelly.

"He is well known, well respected, and one of the first neurologists to write deeply on the concept of concussion," said Dr. Jeff Kutcher, director of the Sports Neurology Clinic in Brighton, Michigan, and former director of the Michigan Neurosport Program and an associate professor in the Department of Neurology at the University of Michigan Medical School.

The airport board will vote March 18 on a motion to sign a letter of intent with ABN, a move that would begin the process of vetting the company and its proposal, said Kelly Flynn, the airport board's president.

Michael Wells, another board member, said he had doubts that ABN could deliver a solid enough proposal to win board support.

But he said if ABN can show it has lined up financing and can answer specific questions about how the project will get off the ground, the board will give it another look.

"It looks very ambitious," he said. "I have to say we're very skeptical. I'm not sure it's realistic at all."•