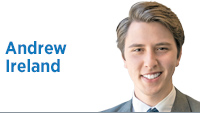 As maybe-House Speaker Paul Ryan put it best, "College graduates should not have to live out their 20s in their childhood bedrooms, staring up at fading Obama posters and wondering when they can move out and get going with life."
In 2008, then-Sen. Barack Obama was carried into office by galvanizing his base while also tapping into two constituencies like never before: African-Americans and millennials. Looking to emulate his success, candidates on both sides of the aisle are vying for the latter key voter bloc.
Hoosiers, much like all Americans, have struggled under the Obama years. Entering a hiring environment where 14 percent of millennials are unemployed—and even a greater share are underemployed—the "hope and change" line has lost its appeal.
A longtime—though unreliable—target group of the left, young adults for the first time in a generation could instead flip for conservatives this November.
But disappointment is not enough. Answers are needed. Here is the three-part agenda to make the big flip happen:
Pro-growth. Carville was right—it is the economy, stupid. Sure, the national unemployment rate is down, but with the workforce participation rate at a generational high and unemployment rampant among students, conservatives must bring their case to millennials.
A key component of that is simplifying the tax code. Lowering regulatory burdens and encouraging organic growth are longtime stances of the Republican Party. Not to mention how disastrous the Affordable Care Act has been for the young and healthy who have largely been asked to bear the cost of generations before. However, candidates must make the case for how young Americans will be directly affected by their proposals. Along with the right deeds, we need the right words.
Candidates must clearly state exactly how much big government costs them and what that means for their quality of life, not just in the future but right now.
Pro-family. Education is a key debate and one that has largely gone untouched by both parties this cycle. Conservatives must make the case for local control of local schools and getting the federal government out of the way of parents and educators. The generation just coming out of school and with many now starting their own families, the future of education in America hits close to home.
Life is another opportunity to bring in millennials, with the longtime debate favorably trending toward the conservative cause among 18- to 29-year-olds. Instead of avoiding this issue, conservatives must speak with great compassion and conviction advocating for life.
Pro-security. At a time when some 80 percent of Americans fear the likelihood of a mass casualty terrorist attack soon, it is clear that security is at the forefront of the national discourse. In fact, one could argue that this trend following the attacks in Paris has fundamentally altered the preferences for candidates in 2016, crushing some and igniting the campaigns of others.
Candidates must provide an aggressive strategy for combating radical Islam while still promising not to send the U.S. military on nation-building missions in foreign countries. Further, they must look to stabilize relationships with longtime allies including Israel and our NATO partners—something the current administration has done great harm to.
Like generations before, millennials have a great diversity in what matters most to them. That said, an agenda that puts growth, family and security first is a formidable one. The millennial vote can, should and may be won—but only if candidates are willing to put the work in to make it happen.•
__________
Ireland is a college Republican at Indiana University. Send comments on this column to [email protected]
Please enable JavaScript to view this content.