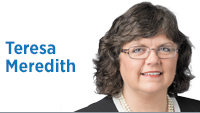 Members of Congress recently set aside party differences and worked to come to a promising replacement for what was known as No Child Left Behind, known by educators across the country as the "No Child Left Untested" law.
It is the federal law that drives most K-12 federal dollars to states. This law ushers in a new day in student support and assessment as well as teacher evaluation, if our state will choose to embrace the opportunities afforded.
The law, known as Every Student Succeeds Act, will allow for a new accountability system with an opportunity dashboard as its centerpiece. This dashboard will let a school look at multiple factors that impact a student's growth, not just test scores. It must take into account math and reading assessments, graduation rate, English language proficiency, and more. This bill also takes high-stakes testing out of the accountability model, allowing schools to spend less time on testing and more time on meeting students' needs.
However, ESSA doesn't do away with testing completely. While every third- to eighth-grader still must be part of a statewide assessment, states are now required to perform state and local audits on the amount of time spent testing and look for duplicative or unnecessary tests. There is a new option for high school tests and new flexibility that creates assessment systems that don't rely on statewide standardized tests.
Perhaps one of the greatest impacts ESSA could have on classrooms will be its respect of the professionals in our schools. Educators are expected to be part of decision-making in school improvement work. There is intentional focus on creating career ladders for teachers, including mentoring programs and better professional development support.
Other notable improvements include greater clarity in opt-out options for students, proactive language about restorative justice with the goal of ending the school-to-prison pipeline, stronger mental health support, and improvements to charter school transparency and accountability.
Indiana now has an incredible opportunity. There is an opening for legislators and educators to drive teaching and learning decisions. Legislators have been given a chance to demonstrate respect for educators by consulting teachers to help move education in Indiana forward. This can lead to stronger partnerships among schools, parents and communities to advocate for what students really need.
Positive change will require much discussion, including determining components of a state accountability plan, opportunities for a local assessment pilot, discussion of what tests should be eliminated, how needs assessments will be done in schools, how interventions are designed and who should be part of that discussion, and much more.
This all translates to some great opportunities for Indiana to turn the tide from being a state that doesn't demonstrate respect for its teachers and students to making Indiana a place where educators' voices are seen as critical in moving students' growth forward.
At the end of the day, Indiana lawmakers have a chance to pave the way for parents, educators and communities to take advantage of the ability to end the test-and-punish era for our children and move to what our students truly deserve: more opportunities for a well-rounded education, less time spent testing, more help for students and schools who need additional support, decisions driven by educators and communities, and a strong emphasis on collaboration.•
__________
Meredith is president of the Indiana State Teachers Association and has taught for more than 20 years in Indiana schools. Send comments on this column to ibjedit@ibj.com.

Please enable JavaScript to view this content.