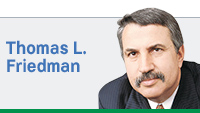 When the U.S. military trains fighter pilots, it uses a concept called the OODA loop. It stands for observe, orient, decide, act. The idea is that, if your ability to observe, orient, decide and act in a dogfight at 30,000 feet is faster than the other pilot's, you'll shoot his plane out of the sky. If the other pilot's OODA loop is faster, he'll shoot you out of the sky. For a while now, it's been obvious that our national OODA loop is broken—and it couldn't be happening at a worse time.
Our OODA loop is busted right when the three largest forces on the planet—technology, globalization and climate change—are in simultaneous nonlinear acceleration. Climate change is intensifying. Technology is making everything faster and amplifying every voice. And globalization is making the world more interdependent than ever, so we are affected by others more than ever.
These accelerations are raising all the requirements for the American dream—they are raising the skill level and lifelong learning requirements for every good job; they are raising the bar on governance—the speed at which governments need to make decisions and the need for hybrid solutions that produce both stronger safety nets and more entrepreneurship to spawn more good jobs. They are also raising the bar on leadership, requiring leaders who can navigate this complexity and foster a resilient country.
The challenges posed by these accelerations, and what will be required to produce resilient citizens and communities, are forcing a politics that is much more of a hybrid of left and right.
It is the kind of politics you already see practiced in successful communities and towns in America—places like Louisville; Minneapolis; Austin, Texas; Chattanooga, Tennessee; and Portland, Oregon—where coalitions made up of the business community, educators and local government come together to forge hybrid solutions to improve their competitiveness and resilience. Unfortunately, we can't get there at the national level since one of our two major parties has gone nuts and we have designed paralysis into our politics.
The Republican Party fell into the grip of a coalition of far-right media and money people who have created a closed loop of incentives for bad behavior and never getting to hybrid: Deny climate change. Spurn immigration reform. Shut down the Congress. Block Obamacare (even though it was based on an idea first implemented by a Republican governor). Do so, and you get rewarded by Fox TV and the GOP cash machine. Stray from those principles, and you get purged.
We have major problems that Congress needs to resolve via politics, and the failure to do so will really hurt us: How do we balance privacy and security? How do we expand free trade and cushion our workers hurt from the effects? How do we make the fixes in Obamacare to make it more sustainable? These will all require hybrid compromises, not dogmatism.
The guy who actually understands this is President Barack Obama. His instinct has been to go hybrid—to combine support for free trade and immigration, to implement a Common Core to upgrade education, to provide health care so workers can be more mobile, to fund more Pell grants so more students can afford college, to make investments in clean tech, to make changes in the tax code to narrow income gaps—all to make the country more resilient. We could have done so much more with his presidency.•
__________
Friedman is a New York Times columnist. Send comments to [email protected]
Please enable JavaScript to view this content.