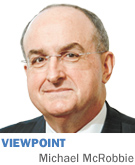 The recently announced decision by the Lilly Endowment and the Eli Lilly and Company Foundation to pledge a combined $100 million to further the development of the Indiana Biosciences Research Institute is the latest evidence of the extraordinary commitment by many of the state's leading institutions to making Indiana a hotbed of research aimed at addressing some of the nation's most pressing medical challenges.
This most welcome news comes less than a month after IBRI announced it had appointed Raghu Mirmira, one of the IU School of Medicine's top faculty members and one of the country's leading metabolic disease researchers, as the institute's first Indiana Research Fellow and interim scientific director, in addition to his posts at the IU School of Medicine.
Indeed, IBRI—formed in 2013 by leading Indiana-based life sciences companies, health care providers and academic partners, and with key state government financial support—has gained considerable momentum in recent months. In addition to the recent announcements, the institute—the first of its kind in the nation—is poised to be the anchor tenant in the 16 Tech innovation community being conceived just north of Eskenazi Hospital and has been launched in space in the 16 Tech area provided by the IU School of Medicine.
Already, companies such as Eli Lilly, Roche Diagnostics, Dow AgroSciences and Cook Medical Group have established Indiana as a credible player in the exploding life sciences arena. Additionally, Indiana is fortunate to be home to some of the very best research universities in the nation, as well as the country's largest medical school and a top-flight hospital system in IU Health. Still, with the stakes so high—in terms of both the health of our citizens and the potential economic impact associated with a thriving biosciences industry—it's incumbent that government, businesses, health care providers and universities work collaboratively to create a culture of "discovery with purpose" that attracts the best minds in the country.
IBRI, with its unique organizational structure and focus on discoveries leading to innovations for people suffering from metabolic disease and poor nutrition, holds the promise to be the vehicle that drives growth in these vitally important areas. At the same time, a burgeoning biosciences community has the potential to bring hundreds of scientists and dozens of health-related firms to Indiana, generating billions of dollars in economic activity.
I'm proud to say Indiana University has been an active partner in IBRI since its inception. For example, IBRI's focus on diabetes and metabolic diseases dovetails with one of the IU School of Medicine's scientific research priorities. We also expect the IU Center for Diabetes and Metabolic Diseases to become a valued research partner to IBRI and anticipate that many of IBRI's researchers will hold faculty positions in the school. Additionally, IBRI should provide valuable internship and research opportunities for IU students.
Central to the long-term success of medical research is a robust platform to translate scientific breakthroughs into viable patient treatments, which is precisely the mission of the Indiana Clinical and Translational Services Institute. CTSI, a consortium of IU, Purdue and Notre Dame, is one of the premier institutions of its type, despite being formed just eight years ago. Through its membership in CTSI, IBRI—in concert with its industry partners—will be able to create a novel and powerful approach to help fulfill its mission.
Much work needs to be done to create the critical mass for IBRI to permanently take root as an integral part of the state's life sciences economy. With each passing month, however, the pieces are falling into place for Indiana to be a national leader in biosciences research, and in the development of life-changing patient treatments.
This is one investment that stands to benefit each and every Hoosier for generations to come and one in which Indiana University is committed to playing a leadership role.•
__________
McRobbie is president of Indiana University.
Please enable JavaScript to view this content.