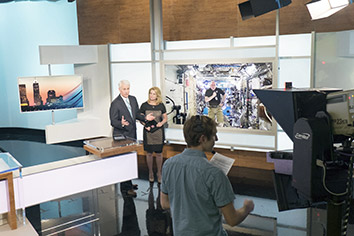 In television, size matters—and station operators nationwide are in a mad rush to get bigger faster.
The theory goes that bigger TV station clusters have more negotiating clout with cable companies, networks, syndicators and advertisers. They also have the ability to drive down costs by consolidating functions like human resources, production and content trafficking.
What's resulted is an arms race that has seen some of the nation's biggest TV station operators merge to form ownership groups the size of which have never been seen before.
Every Indianapolis station except one—local leader WTHR-TV Channel 13—has been touched by merger mania in the last five years.
Detractors of the trend say stations that become part of mega-corporations become more obsessed with profit margins and less concerned with serving the communities in which they air.
Les Vann, general manager of WISH-TV Channel 8, said he hasn't seen that downside at his station, which saw one ownership change less than two years ago and is about to undergo another.
"We've remained hyper-focused on being local," said Vann, who is managing a station without a major network affiliation. "We've continued to invest in our station and we've continued to improve."
Vann pointed to a number of new hires in recent years and an overall growth of WISH's news staff as well as being the first—and still only—local station to buy a drone for news gathering.
Now, some industry experts have begun to wonder if WTHR's Tiny Tim-size parent, Columbus, Ohio-based Dispatch Broadcasting Group, can survive in this land of ever-growing giants.
"When you see [WISH parent] LIN get acquired by Media General, and now Media General looking to become part of a bigger company, station operators have to start thinking for their own protection that it may be time to see what the market offers," said Perry Metz, general manager of WTIU-TV Channel 30, a public station in Bloomington.
Officials for the undersized but feisty Dispatch say the question of its survivability is nonsense.
"Consolidation and size in this industry doesn't determine success," said Larry Delia, WTHR president and general manager. "Ratings are what determine success. And we have the ratings to stand on our own."
WTHR and Dispatch's other TV station—WBNS, a CBS affiliate in Columbus—both lead their markets in total viewership, according to New York-based Nielsen Media Research.
"Syndicators come to us because they want to be on the top-rated station," Delia said. "We think our ratings put us in a strong negotiating position with others as well. It still comes down to the success of your local TV station."
Ever bigger
But the size difference is striking.
Cincinnati-based The EW Scripps Co., parent of WRTV-TV Channel 6, owns 33 stations in 17 states. Scripps acquired WRTV and three other stations from McGraw-Hill Cos. in 2011.
In December 2014, WISH and WNDY-TV Channel 23 parent Rhode Island-based LIN Media merged with Virginia-based Media General, creating the second-largest TV cluster in the country, with 71 stations in 48 markets.
Last month, Media General completed negotiations to be acquired by Dallas-area-based Nexstar Broadcasting Group after Nexstar raised its offer to $2.3 billion. Nexstar has 91 stations.
Chicago-based Tribune Broadcasting—owner of WTTV-TV Channel 4 and WXIN-TV Channel 59—operates 42 stations reaching more than 50 million households and put itself up for sale this month.
As recently as late 2013, Tribune was growing its stable, paying $2.7 billion for Kentucky-based Local TV Holdings LLC, which operated 20 stations in 13 states.

Delia
Dispatch has owned WTHR since 1975, when it bought the station from Cincinnati-based Avco Broadcasting Corp. and changed its call letters from WLWI.
While Dispatch officials insist they have no interest in being acquired or merging, they said they will consider strategic acquisitions. Last year, the Wolfe family that controls Dispatch sold its newspaper holdings to focus on broadcasting. It also owns two radio stations.
"Dispatch is content with what it has," Delia said. "But if there's something out there that interests them, they're open."
The company has been approached about selling its stations, he said, but isn't interested.
"Dispatch is like the little engine that could," said Robert Unmacht, a partner at iN3 Partners, a Tennessee-based investment banking consultancy focused on broadcasting and technology. "And it's done so to this point with remarkable success."
There's a good reason for that, Delia said.
"We have zero debt in our company. And that allows us to do the right things," he said. "It allows us to invest in the right things, the right people, and have the right resources, which allows us to have the best TV station in each market we're in."
He said both Dispatch stations are given a great deal of autonomy.
"That allows us to stay close and do what's best for the community we serve," said Delia, a 32-year industry veteran who was general manager for WXIN and WTTV before he joined WTHR in 2013. "We're not asked to do what works in 20 other markets. We do what works in this market."
Though Delia declined to reveal WTHR's profit margins—other than to say, "We do quite well"—industry experts said Dispatch's debt-free status gives WTHR more breathing room between revenue and operating expenses.
Before 2008, most TV stations were operating at a massive 35 percent margin, experts said. That's dipped to at or just below 30 percent in recent years.
Merger pressure
Rick Gevers, an Indianapolis-based agent who represents on-air TV news talent, said the fundamental difference between WTHR and other Indianapolis stations is that WTHR doesn't start "with a mandate from a parent company to start at a certain profit margin and work backward from there."
"They don't have to manage from quarter to quarter or even month to month" like stations with publicly traded parents, Gevers said.
It also helps that, in many time slots, WTHR has the highest-rated local newscast. The station can charge 40 percent to 100 percent more for 30-second ads during newscasts than other stations can, media buyers said. And that's significant because advertising sales during local newscasts compose 40 percent to 65 percent of a station's revenue.

"Operators of commercial stations are under a tremendous amount of pressure on multiple fronts," WTIU's Metz said. "That has added to the desire to grow bigger."
Cable TV retransmission fees are certainly one big factor. In the last five years, they have become a bigger slice of stations' revenue pie, and having leverage with cable behemoths has become paramount, according to the Tennessee consultant, Unmacht.
"The local stations—the network carriers—get higher viewership than any other station on the fragmented cable dial," he said. "Over the last decade, the station operators and cable companies have figured out the local stations' importance. If you own more local stations, naturally you're going to have more leverage with cable providers."
Just a decade ago, cable operators were paying local stations little to nothing to rebroadcast their programming. But stations are now getting fees nearing $1 per household they reach. That can add a seven-figure amount to revenue.
Network officials, however, have argued that they are owed part of those retransmission fees. In some cases, they've been able to negotiate deals to get more than half.
Also, with the growth of digital and continued audience fragmentation, owning more stations means a TV group's regional and national ads will reach a larger audience.
Another—slightly under the radar—factor fueling the merger mania, Metz said, is the Federal Communications Commission's attempt to buy spectrum from TV stations to resell to wireless providers. In some cases, stations are being offered a potential windfall of tens or even hundreds of millions in the reverse auction to give up their spectrum space.•
Please enable JavaScript to view this content.