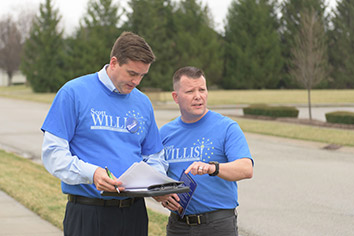 Westfield resident Scott Willis says it's not an ideal time for him to be running for an Indiana Senate seat.
The 46-year-old Republican has another year to serve with the U.S. Marine Corps before he can retire, and his youngest son was recently diagnosed with Type I diabetes. He's running two businesses and trying to campaign heavily, while still making it home at night to see his family.
But after Willis spent time in the fall canvassing the 20th district, talking to residents and business owners about frustrations with state government, he decided he couldn't keep waiting to see if six-term Republican Sen. Luke Kenley would retire. So Willis announced his candidacy in November.
"Luke's been in office such a long time, and the last thing I envisioned for myself in a political world is running up against an incumbent in my own party," Willis said. "I was passionate about certain issues that I had seen come out of the Statehouse that were frustrating to me, but I wanted to make sure I wasn't alone—that there was a real need for change."
Kenley has rarely faced challengers in the primary or general election. The last primary opponent was in 2008, and Kenley won with 85 percent of the vote.
The heavily Republican district includes Noblesville, Westfield and the northwestern portion of Fishers. Hamilton County GOP Chairman Pete Peterson said the party doesn't mind having contested primary races, but typically does not endorse candidates.
"I'm not going to say it's never going to happen, but we haven't endorsed anybody yet," Peterson said.
Political experts say Kenley shouldn't take his position for granted, or he might lose. It's happened before. Former Senate President Pro Tem Robert Garton and former Senate Finance Chairman Larry Borst both lost when they faced upstart primary challengers.
"The danger is that, every now and then, people get the feeling that you've been there too long and you've lost touch," said Paul Helmke, Indiana University professor and former mayor of Fort Wayne. "You're never quite sure of the mood of the voter."
Willis grew up in Kokomo, graduated from Purdue University, and has spent most of his adult life in the Marine Corps. He traveled to places like Japan, Hong Kong and Australia. While he admitted he misses the adventure, he said he's happy with his family lifestyle. Willis met his wife, Stacey, in Fishers and the couple has three children.
He worked for General Motors in Anderson for a year, in 1999, before Noblesville-based Management Recruiters hired him to be a recruiter. In the five years he spent there, he found his passion.
In 2006, after finishing a one-year tour in Iraq, Willis started his own recruiting business—Arnett Management Solutions Inc.—which works with pharmaceutical and biotechnology companies across the country.
Willis wouldn't name clients but said he has worked with a biotech company in Chicago and Indiana, a pharmaceutical company in Lexington, Kentucky, and a global pharmaceutical company based in Boston.
He typically works with six to eight companies at any given time and most are in the Midwest. His firm has two employees.
Shortly after starting Arnett Management, Willis discovered an interest in buying real estate and created JarheadHoldings LLC. That company owns a handful of properties—mostly commercial—but Willis said he sees it as a hobby that could help secure his retirement.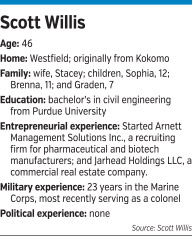 Where he stands
Willis' biggest legislative concern is funding—for schools and for roads.
He admitted that the 2015 school funding formula—written in part by Kenley—has benefited Hamilton County schools more than in past years. But Willis said funding still falls short. Hamilton Southeastern Schools and Noblesville Schools are both proposing funding referendums in May, arguing that state distributions are not covering their costs.
Willis said he was disappointed with Kenley, who serves as chairman of the Senate Appropriations Committee, for not fighting harder to bring more dollars to the district. Parents are paying fees for school supplies like iPads and for extracurricular activities, in addition to book rental fees. Willis said his bill came to $600 this year.
"Although I can write that check, there's a lot of people in my district that can't," Willis said. "That alone is reason to run now."
Willis also wants local communities to receive more funding for road-improvement projects. While he supports maintaining a surplus in the state budget, he said officials shouldn't keep money when necessary expenses aren't being covered. The state has $2 billion in reserves.
"If we're going to tax our community, then we better spend it wisely," Willis said. "Our roads are crumbling in Hamilton County. We need that money."
Willis was also unhappy about last year's passage of the Religious Freedom Restoration Act, which he described as a "black eye for Indiana." The law, backed by Gov. Mike Pence, was meant to give guidance to courts in resolving conflicts that arise between religious beliefs and government regulations. But critics said it would give businesses and others the right to discriminate against the LGBT community.
Kenley voted for the bill. Only five Republicans voted no.
"I'm a conservative. I have conservative values," Willis said. "But no Hoosier should ever be discriminated against."
He supports expanding the state's civil rights law to protect Hoosiers based on sexual orientation and gender identity, with exceptions for churches.
"The problem's not going away," Willis said. "And the longer we choose to ignore it, the longer it's going to hurt businesses in our communities."
The biggest hurdle
Willis said his biggest campaign challenge will be raising money.
According to his 2015 campaign finance report, Willis had $6,224 in contributions, nearly half of that was self-funded. He donated $2,500 to his campaign to pay for a website, post office box and stamps. Arnett Management Solutions also donated $500.
Kenley, meanwhile, had $253,000 in his campaign chest heading into election season, including nearly $100,000 he collected in 2015 alone.
"I went in eyes wide open," Willis said. "When you're running against someone who's been in office as long as he has, you're going to have to earn it."
But Willis does have some outside support. In December, he received $1,000 from former ExactTarget executive Todd Richardson, who is now the chief people officer for Fishers-based mobile app company Bluebridge LLC.
Richardson said he met Willis through school events because their children are similar ages, and they discussed concerns with the state's school funding formula.
"The community is understanding that the status quo is not working and that our community deserves better," Richardson said in an email. "We need an advocate at the Statehouse that represents our interests, especially as it relates to education funding."
Andrew Downs, director of the Mike Downs Center for Indiana Politics, said money can make a difference in the success of a campaign, but that a candidate could make an impact through mailed advertisements, spending only about $25,000.
Helmke agreed that Willis will need enough funding to get his name out to the public, but that doesn't mean he needs as much as or more than Kenley.
"Jeb Bush had all the money and all the backing … and it didn't do much of anything," Helmke said, referencing the former Republican presidential candidate. "Money alone doesn't call the shots. … It's how you use the money."
Anything can happen
This election year, voters have been drawn to outside candidates nationally, and political experts say they expect the trend to trickle down into state and local races.
"I think you have to take it very seriously," Downs said. "If not, you get knocked off in the primary."
It's not unheard of for an established, well-funded candidate to be upset by a relatively unknown challenger. In 2004, Borst—who had served 36 years in the Senate representing southern Indianapolis and parts of Johnson County—lost in the Republican primary to Brent Waltz.
Two years later, Garton—a Republican who had served 36 years in the Senate and a record 26 years as its leader—lost his primary to Greg Walker. It was the first time Garton had faced a primary challenge since he was first elected in 1970.
Then in 2007, Republican Greg Ballard defeated two-term incumbent Democrat Bart Peterson in the Indianapolis mayoral race, a huge upset that surprised political observers across Indiana.
Downs said if a candidate starts campaigning early enough, especially while an incumbent is busy with the legislative session, he or she could have a decent opportunity to win. He said the trick for Willis will be to determine who is most likely to vote and what areas of the district haven't strongly supported Kenley in the past.
"It's not that you have to talk to every single [voter]," Downs said.
The GOP presidential primary might also impact the District 20 race. Turnout could be huge if a nominee hasn't become clear by Indiana's May primary.
"In that case, you wonder, who does it help?" Helmke said.
A small turnout can help newcomers like Willis, he said, because the voters tend to be angry and seeking change. But if they are upset with national politics only, they might not have paid attention to state races. In that case, Kenley's name recognition could work in his favor.  
"This is one of those years that anything could happen," Helmke said.•
Please enable JavaScript to view this content.