Indianapolis-based trucking company Celadon Group Inc. is searching for a site to build a $20 million corporate campus and is targeting land at Mount Comfort in Hancock County.

Publicly traded Celadon has had its headquarters at East 33rd Street and Mitthoeffer Road in Indianapolis since 1996. The company is looking elsewhere because that 40-acre site has no room for expansion and is landlocked.

"We're hopeful, if things continue, we'll be able to close [on the purchase of the land] later this spring," Celadon spokesman Joe Weigel said. "We're not running out of room next week or next month, but we have to move sooner rather than later."

Celadon, which provides trucking services throughout the United States, Canada and Mexico, is continuing to consider various sites in Indiana and outside the state, Weigel said, and has kept city and state officials apprised of its land search.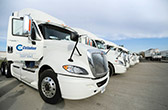 Celadon is one of the biggest trucking companies in the nation and employs 900 people in Indianapolis.
(Bloomberg News photo)
Celadon prefers to stay in central Indiana, he said, though it has been unable to identify a suitable site in Indianapolis.

"There are a handful of other locations we're considering," Weigel said. "But Hancock County is probably the one we're zeroing in on now."

Taylor Schaffer, spokeswoman for Indianapolis Mayor Joe Hogsett, said via email that city officials "are having ongoing conversations with Celadon."

Losing Celadon, one of the nation's biggest trucking companies, would be a blow to the city of Indianapolis. The company employs 900 locally and a total of 4,000, including drivers spread across the country.

In its latest fiscal year, Celadon reported revenue of $901 million. It ranked 14th on IBJ's 2015 list of largest public companies in the Indianapolis area.

The 168-acre plot in Hancock County is on West County Road 300 North near Mount Comfort Road, north of Interstate 70. Celadon's interest in the property became public because it's the only site the company is considering that needed rezoning, Weigel said.

Mount Comfort is home to the Axcess 70 industrial park and corporations Covance Inc., which offers contract research services for drug companies, and Elanco, the Eli Lilly and Co.-owned unit that manufactures animal health drugs.

"This is probably the biggest project the county has ever seen," said Mike Dale, executive director of the Hancock County Area Plan Commission and Board of Zoning Appeals. "This project is very large, and it's probably going to be phased in over the course of a few years."

The land Celadon wants to buy is owned by an entity called JPR Lowder Farms LP.

A new Celadon headquarters would include a four-story, 54,000-square-foot office building, a 73,000-square-foot maintenance facility, a 30,000-square-foot dormitory for drivers in training, and a medical clinic. The dorm space now is so cramped that Celadon often finds itself lodging trainees in nearby hotels, Weigel said.

Celadon presented its plans to Hancock County officials in February, and they were the subject of a March 1 public hearing. There was no opposition, and the county's plan commission is set to consider the project April 14.

The company likely will seek financial incentives to help build the headquarters and has had preliminary discussions with county officials, Weigel said.

Celadon's need for more space was driven by an acquisition spree.

Just in recent months, the company announced it was buying all or parts of Louisiana-based Tango Transport LLC, Oregon-based FTL Inc. and Pennsylvania-based Buckler Transport Inc.

Steve Russell started Celadon in New York City in 1985 and moved it to more centralized Indianapolis the following year.

In August, Russell relinquished his role as chairman to Paul Will, who had succeeded him as CEO in 2012.•