It's been nearly three years since Salesforce's blockbuster acquisition of ExactTarget Inc., a $2.5 billion deal that's still reverberating in the Indianapolis tech sector. While Salesforce has seen many employees depart for new ventures, the company also has grown its local work force from about 1,000 people in early 2014 to roughly 1,400 people today.
ExactTarget became the core of what's now known as the Salesforce Marketing Cloud, and the CEO of that division, Scott McCorkle, has said Salesforce plans to grow its Indianapolis headcount by 50 percent over the next few years.


Scott McCorkle
Salesforce last week opened a 15,000-square-foot employee cafe and networking center on the first floor of the Gibson Building at 433 N. Capitol Ave., featuring a full-service cafe, a 200-person conference room, a game corner and more. It's one of three buildings downtown that the firm leases. McCorkle spoke to IBJ at the new space Thursday. The following are edited excerpts from the conversation:
What do you think about the Gibson space?
What I like about this building is that it has huge floor plates, so each floor of this building is like 45,000 square feet. So you do get a lot of people interacting on a floor. But still, we have four floors in this building, including this one, so it's great to pull people [down] here and pull people from other buildings. We have a meeting today that will include people from all three buildings [in Indianapolis], and people from San Francisco and New York.
What we're doing today is a walk-through of Connections, our [annual digital marketing] conference. So it's time to start zeroing in on content. It's May 10 through 12 [in Atlanta].
Will Connections ever come back to Indianapolis? [It was held here from 2005 to 2014.]
We have enjoyed taking it to different cities because we have so many cities with so many customers. It creates this fun effect to pull people locally. Of course, all kinds of people travel for Connections from all over the world–hundreds of people from Europe, Australia and everywhere. But New York City is the place we have the most customers. We've got a lot of customers in Atlanta, too.
But we'll see. We love Indy. We love supporting Indy. And something I mentioned when Connections went to New York last year was, from an Indianapolis perspective, what's good for the Marketing Cloud and Salesforce is good for Indianapolis.
There's nothing [stopping it from returning]. All options are open. It was never about … it was all about opportunity.
A few years post-acquisition, the Marketing Cloud is only about 11 percent of Salesforce revenues. Do you see that share increasing?
When I think about these last three years being part of Salesforce, I've learned more than I've learned my last 20 years in software because the company is so successful. It's almost bittersweet to be growing 31 percent on a pretty good number [$184 million in revenue in latest quarter], but have other parts of the company growing faster because the company is so strong. But we're highly competitive, so I strive to be the fastest.
There are lots of different kinds of marketing technology companies. There are some, like ours, that [businesses] can use as a marketing hub to plug everything into. And that's new. The whole idea of a marketing cloud or marketing hub is only a couple of years old. And to be accelerating our growth into that marketing need is really important.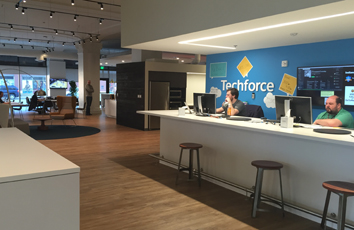 Salesforce's new, 15,000-square-foot employee center in the Gibson Building includes a cafe, game area and meeting space for 200. (IBJ Photo/Jared Council)
You mentioned last fall that you plan on growing Indianapolis headcount by 50 percent in the coming years. Where will those hires be?
There are several major hubs where we're hiring for the Marketing Cloud: here, San Francisco, London, Seattle. But the largest percentage of our engineers are based in Indianapolis. The rest of the hiring here is across all major parts of Salesforce: services, sales, engineering, infrastructure, finance, employee success. So "across the board" is the best way to put it, but Marketing Cloud [hires] will probably be a high percentage.
Why 50 percent?
If you look at the growth Salesforce has enjoyed and you think about how it's managed, you can draw a direct connection between that long-term thinking and being able to sustain the kind of growth the company's made. So we're thinking about what the headcount needs to be a year from now to deliver those revenues a year from now.
So we have a plan for where we want to take the business. Then with that plan we have to decide what do we communicate or not communicate. And typically the company wouldn't communicate something like that. The reason I worked really hard to be able to say that is because I think it's important to show the investment in the community.
And, talking to all the businesses you talk to, you'll hear a lot of, "Five years from now we'll be … ." Those are hopes and dreams. Some will happen; some won't happen. But we're going to hire 50 percent more people over the next few years. That will happen.
In the past, you've declined to comment on real estate speculations. Aside from reports about Salesforce occupying space in the Chase Tower, what's your vision for the three buildings you now occupy?
So, we like urban environments. We need a place to put more people. We have multiple buildings and it's worked out fine for us. So I think that all things are possible. But I anticipate multiple buildings.
Do you have a timeline on when you might be able to talk more about long-term real estate plans?
We getting close. Soon. There are all these different pieces and parts of it, and lots of variables to it. There's one more floor here we could have or there's other space that's available. How it can take so long and be so complicated is … kind of a fun process.
We're close on being able to articulate our future plans. I'm excited about how they're evolving, I'm just not there yet.
 
Please enable JavaScript to view this content.