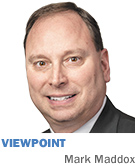 Growing up in a small Indiana city, our DQs were seasonal. They usually closed on the saddest fall day and reopened around early March on one of the best days of the year. From a young age (through now), I had trouble controlling my anticipation of DQ's opening day. That's how I feel about the prospect of the Republican Party's nominating Donald Trump as its presidential nominee.
Last summer, this idea seemed impossible. By fall, it was still unlikely. By January, it seemed possible. And now it seems all but ordained. That's better than a strawberry sundae with extra nuts!
In a presidential election, it is not the die-hard Republican and Democratic voters who usually decide the winners, but independents and softer-leaning party voters. These men and women in the middle will more often turn out (or stay home) to vote against one candidate than for another. With a likely match-up between Trump and Hillary Clinton, voters have a lot to dislike. Some will have to hold their noses to pick one. By Nov. 8, it will be Trump's noxious fumes that most voters will reject. That's as good as a Rocky Road Blizzard.
By November, a majority will tire of Trump's traveling show. To avoid a blowout, The Insulter-in-Chief will have to do more than continue to insult his opponents and make razor-thin policy statements that double as bumper stickers. So far, he's been referring to most of his opponents as "nasty" guys— isn't that like the pot calling the kettle an Orange Freeze?
Some voters will be turned off by his vulgarity. No presidential candidate in recent memory has been recorded on video or audio using the salty language that permeates the lexicon of Donald "Dice" Trump. Some will conclude he simply lacks the temperament to be president. His inappropriate comments about women, minorities and the disabled will disqualify him for many. His ambivalence about white racist group support will turn off others. His total lack of political and foreign policy experience will pale in comparison to his likely opponent's and cost him even more votes.
In an election year when Hillary was really vulnerable, the Republicans are poised to nominate their least-electable nominee. Trump will not only handily lose the presidential election, but he will drag down with him the Senate, many House seats, and the U.S. Supreme Court for a generation (as Hillary will likely get two to four appointments).
Trump will put governors in close races—like Mike Pence—at even more risk. November will be Armageddon for the Republican Party, which might cease to exist as we know it by the end of the year. This is because there is a real risk of Republican conservatives breaking off and forming a third party to run against Trump in November, which could forever fracture the GOP. The only thing sweeter than that is Dilly Bars for everyone.•
__________
Maddox, a former Indiana securities commissioner, is managing partner of Maddox Hargett & Caruso.
Please enable JavaScript to view this content.