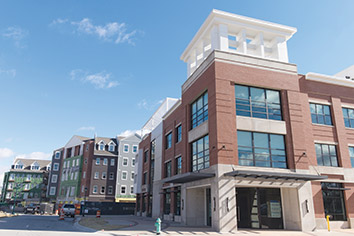 Fishers has become a mecca for tech companies—but it didn't happen overnight and it didn't happen by accident.
Mayor Scott Fadness and Launch Fishers CEO John Wechsler have spent four years methodically planning how to shape the city's economy in a way to support entrepreneurs and startups.
The effort started with creating a place for one-person businesses to work and transitioned into erecting a downtown filled with offices, apartments, shops and restaurants. It went beyond the physical environment, as city leaders poured resources into establishing a welcoming culture for serial entrepreneurs.
"They have a plan, and it is a deliberate one," said CloudOne CEO John McDonald, who moved his company known for helping businesses manage "the Internet of Things" to downtown Fishers last year.

Fadness
The vision comes with risks, as a majority of startups don't succeed, but several observers say the failures boost the overall eco-system as entrepreneurs learn from their mistakes and their employees are absorbed into other companies.  
So far, the strategy has worked. Co-working program Launch Fishers attracted more members than it could house, which caused it to nearly quadruple its footprint, and tech companies have embraced the city's invitation by filling new office spaces sometimes even faster than construction crews can pack up.

Wechsler
"The progression is pretty simple, although it was a hell of a lot of blood, sweat and tears for John and I," Fadness said.
Fadness is continuing to push his vision forward with a request pending before the state to designate most of downtown, including part of the Nickel Plate District and the North East Commerce Park—Launch Fishers' new home—as a certified technology park. The classification would allow the city to collect millions of dollars in incremental sales and income taxes, which could be used to pay for a variety of growth and improvement projects.
"We're probably on step five of 50 to really make it happen," Fadness said about his quest for an entrepreneurial city. "We don't intend to slow down in our pursuit."

McDonald
Most say the strategy started with Launch Fishers. McDonald described it as the "crown jewel" of startup incubators in Indiana and an uncommon element for a suburban city.
It opened in 2012 in the 16,000-square-foot basement of the Hamilton East Public Library with the goal of attracting 200 members in two years. Today, it's at about 550 members.
It didn't take long for companies to "launch" and for the parking lot to reach capacity on a daily basis. Mobile app developer Bluebridge Digital LLC was the first company to graduate, when it moved out in 2013.
Launch also went beyond offering desk space for those without an office. The organization encourages collaboration between members and the community through various events and invites outside groups to use the space.
The new location, in the former Deca Financial Services LLC building, includes suites for the Ball State University Center for Excellence in Entrepreneurship and Carmel-based coding academy Eleven Fifty.

Gigerich
McDonald said those elements aren't typically seen in other co-working spaces.
But the push for a new location was mostly driven by the need for more small offices for companies with two to four employees. At the previous location, only two spaces were available for that use.
"We had nowhere for them to go," Fadness said.
All 12 office suites in the new building are filled, but Wechsler expects that to continually evolve.
"It's not unlikely to think there's 300 people in this building," Fadness said, sitting in the new space, which opened earlier this month. "That would be one of the largest employers in Fishers if that was a stand-alone company."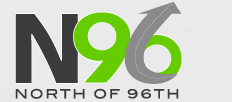 Continuing support
Even before expanding Launch Fishers, the city found a way to help growing startups by leasing offices in the new downtown buildings, then subleasing them to tech companies.
The 40,000-square-foot Meyer Najem Corp. headquarters on the corner of Lantern Road and Technology Way was the first to fill up. Bluebridge took 9,000 square feet, media digitizing company Memory Ventures had 3,200 square feet, and city employee health-clinic operator QuadMed completed the second floor with 3,150 square feet.
"Had we not had the space for him, he's in some other community," Fadness said of Bluebridge CEO Santiago Jaramillo.
The practice continued into The Switch development, where CloudOne leases the 11,518-square-foot third floor from the city.

Bowen
The unusual arrangement allows businesses to have flexible leases, which makes growth easier and reduces the financial risk should the business fail.
"It is a simple and yet incredibly powerful economic development tool," McDonald said.
Memory Ventures, for example, had been leasing space at the Meyer Najem building, but outgrew it much faster than expected. The city terminated the lease and quickly re-leased the space to Noblesville video production company 12 Stars Media. Memory Ventures found bigger space at Concourse at Crosspoint.
"The master lease mitigates the risk that a company may have by moving to Fishers," said Shelby Bowen, vice president of development for construction management and development firm Envoy Inc. "You don't have to sign a long-term lease to be here. That's huge."
Larry Gigerich, managing director at site selection firm Ginovus, said it's unusual to see master lease agreements between a municipality and developer in the Midwest, but it is seen in major metropolitan areas and on the coasts.
He said the strategy actually became even more important after the economic downturn because many developers wanted only top-credit tenants and would offer only long-term leases.
"I think the way they've done it is smart, and they've tied it to exactly what they're going after," Gigerich said.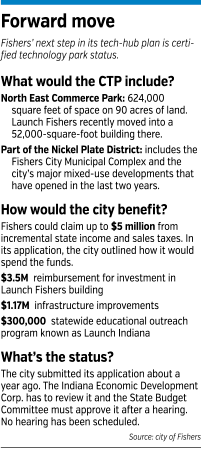 Certified for tech
The certified technology park is the next step in Fishers' strategy.
Two dozen CTPs exist statewide, including four in Indianapolis. The designation allows a municipality to collect up to $5 million from the incremental growth in sales and income tax revenue—money that would otherwise have gone to the state. The funds can be reinvested in the area to attract new businesses and development.
According to state guidelines, a tech park needs to have a plan for growth, an ability to attract high-tech businesses, financial support from the local government and the involvement of a higher education institution.
Fadness believes Fishers has exceeded those requirements. The city spent $3.1 million to purchase the former Deca building for Launch, the co-working program is expected to continue growing new businesses, and Ball State University and Purdue University both have a presence within the suggested park boundaries.
But the city submitted the application nearly a year ago, and it appears to be stuck in limbo. The Indiana Economic Development Corp. must sign off on the proposal and send it to the State Budget Committee for review.
"We're hoping that they'll have us come in and make our case," Fadness said. "It's something we would love to get accomplished. That would be a huge help from a resource perspective."
Sen. Luke Kenley, R-Noblesville, who serves on the State Budget Committee, said he hadn't heard anything about whether the committee would consider the application.
"That has to be approved by the IEDC first," Kenley said. "So I don't know if there is a time line."
An IEDC spokeswoman said the agency does not comment on pending applications.
While Fadness said the city would like an answer, he isn't waiting to move forward on improvements. The city already created a new entrance into the North East Commerce Park by aligning it with a traffic light at Lantern Road, which was one of the projects proposed in the application.
The city could also be reimbursed for the Launch Fishers building expense if the application is approved.
Quality of life
Fadness knew startups wouldn't stay in his city long without amenities like restaurants, shops and apartments. So he quickly helped spur hundreds of millions of dollars in downtown development.
The Switch, The Depot at Nickel Plate, The Edge and the Meyer Najem building—all within the Nickel Plate District—accounted for $94 million in development that included apartments, offices, retail, restaurants and parking garages.

"The vibe" of downtown Fishers is part of what drove McDonald to move his company to The Switch last year, months before construction was complete. Protective construction fences still surround the building and CloudOne employees regularly hear noise from crews working, but McDonald knew the area had everything he wanted.
He said major cities like Chicago, Austin and Atlanta have a vibrant tech scene, but companies aren't able to locate in areas with nice apartments and restaurants within walking distance or with reasonably priced homes and good schools nearby.
"When I walk into that building, I feel like I'm in downtown Chicago," McDonald said, pointing to the Depot at Nickel Plate across the street from his office.
Risky business
Fadness likened his economic development tactics to a college basketball coach recruiting the next great freshman class. But in his case, he's recruiting startups.
"It's not that the traditional economic development model was broken," Fadness said. "It just wasn't complete."
He was after jobs and companies, but more important, he was looking for serial entrepreneurs to live and work in Fishers.
"If you get a critical mass of people like that in your community, you don't know exactly what they're going to do, but chances are what they're going to do is pretty exciting," Fadness said.
Rather than investing public dollars into one company promising to bring hundreds of jobs, he spent city funds to support hundreds of small businesses that employ a few workers each.
It spreads out the risk.
"I don't pick winners and losers, and neither does John," Fadness said. "So if one of them makes it, that's awesome. If one of them fails … my amount of resources into them is pretty limited."
Launch Fishers actually embraces failure with its annual Fail Fest event, a day for entrepreneurs to celebrate their innovations that weren't successful.
"It's such a hallmark of tech, we have an event around it," McDonald said.
When a tech entrepreneur's idea fails, Envoy's Bowen said, "Those guys try something else."
And employees at the unsuccessful startup are likely to be absorbed into other tech companies, unlike when a major corporate employer fails or relocates, Gigerich said.
Fadness conceded that landing a major company with thousands of employees would likely gain him more recognition, but he's happy securing innovative businesses with 10 employees.
"People don't necessarily get that," he said. "But I think people are starting to wonder what we're doing up here."
And the momentum is expected to continue as developments like The Switch and The Edge wrap up construction.
"I'm already on to the next thing. I want to keep moving and keep progressing," Fadness said.•
Please enable JavaScript to view this content.