The common areas of the Hyatt Downtown are undergoing a $1.3 million makeover. While I'm not fond of the cluttery combo of elements the lobby now contains, I am impressed with the changes made to its downstairs restaurant. (Rest assured, food-with-a-view fans, upstairs you can still find the rotating Eagle's Nest.)

Fat Rooster Diner (1 South Capitol Ave., 616-6160) is the lobby newcomer, taking over the space formerly occupied by One South. Retaining its predecessor's popular you-name-the-ingredients pasta station but overhauling the rest of the menu, the spot now focuses on farm-to-table cuisine with an emphasis on local ingredients.

The results, based on our visit, are sometimes puzzling, sometimes successful. Just be ready for the guilt that might arise when you notice the pig portrait staring down at you from the wall, part of a design scheme as unfocused as that in the lobby.

We started with a puzzler—the fine Rooster Flatbread (pricey at $14) piled with grilled chicken chunks. Promising, but honey—perhaps intended to balance the heat of the chipotle—overran the dish to a point where it was just about all we could taste.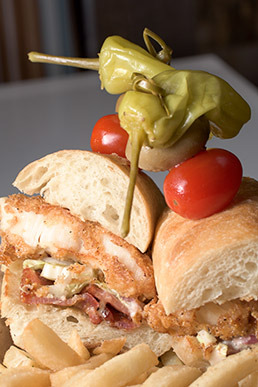 The Indiana Ale Battered Walleye Sandwich at the new Fat Rooster Diner is a locally sourced pleasure. (IBJ photo/Eric Learned)
Better—but still a bit steep price-wise—were our entrees. Rather than max out the credit card on $22 Fish & Chips, we set our sights on the slightly more modest Indiana Ale Battered Walleye sandwich ($15). There was nothing remotely interesting about the allegedly loaded potato salad that sided it, but the sandwich itself offered flaky fried fish with a (sorry, pig-on-the-wall) delicious peppered bacon that respected that the walleye was in charge. It was well-matched with its roll and some malt vinegar slaw. A house pickle served as a side rather than something to add to the sandwich pile.

The Mediterranean Turkey Meatball Casserole ($13) made a good case for the orb usually seen as a lesser cousin to the standard meatball. Here, the tender, light balls were enhanced with a veggie ragout of eggplant, zucchini, chickpeas and tomatoes and lightly spiced enough to earn the Mediterranean moniker. Improving matters further: A side salad of arugula and pickled beets and onions, lightly dressed in a simple vinaigrette, offering a perfect peppery contrast.

We were, at first, put off by the $8 price tag on the Sugar Cream Pie Shake. But when we accepted that this would, in fact, be a piece of pie blended into a milkshake, we couldn't resist—and asked our waitress to divide it into two glasses so we could share and feel like we were buying two desserts for the price of one.

We're glad we did. The delicious sugar cream pie flavor survived the trip through the blender with bits of pie crust intact. Hmmm … perhaps Dutch Strawberry Rhubarb next time?•

—Lou Harry