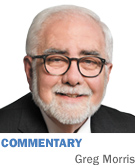 What organization in Indianapolis endeavors to change the world for the better and change lives forever—and succeeds in those endeavors year after year? If you said the Central Indiana Community Foundation, you're correct. Most everyone who's been around this city for any length of time surely has heard of CICF, but do you really understand what this organization does?
CICF has three core missions:
■ To provide leadership while trying to make central Indiana a better place. Three leadership initiatives fall under this category—family success, inspiring places, and college readiness and success. CICF works to improve our region for current residents and to attract and retain talented newcomers.
■ To make grants to organizations doing good work here and around the world. It awards $40 million annually and supports highly effective not-for-profits that align overall mission with the passions of their donors. Areas of support include quality-of-life issues, education, community vitality, neighborhood connectivity, and the preservation and activation of cultural and community assets.
■ To help philanthropists invest in the causes that matter most to them. Philanthropic donors rely on the CICF's expertise because they want to know the money they contribute has the best chance of achieving the desired results.
CICF, founded in 1997, is a partnership between the 100-year-old Indianapolis Foundation in Marion County, and Hamilton County's Legacy Fund, established in 1991. Today, CICF manages more than $700 million in charitable assets and is led by Brian Payne, whose unrelenting passion and energy for making central Indiana a great place to live and work is unsurpassed. When Payne talks about changing the world for the better and changing lives forever—he means it. His passion permeates the entire organization.
The Indianapolis Foundation and the Legacy Fund are the two community funds managed by CICF. And three notable family funds look to CICF's management leadership: Efroymson Family Fund, The Glick Fund, and Thomas P. and Sondra D. Sheehan Charitable Foundation. Special-focus funds under CICF management include: Central Indiana Senior Fund, The Indianapolis Foundation Library Fund, Indianapolis Parks Foundation, Leadership Indianapolis,Summer Youth Program Fund and Women's Fund of Central Indiana.
I could write a separate column about each of these family and special-focus funds highlighting the work they do in our community. And Payne's effort with the Glick family to create the world-class Cultural Trail in Indianapolis is already the stuff of legends.
To mark its 100th birthday, the Indianapolis Foundation created two $100,000 "Ben Franklin" funds. One will be funded by 1,000 donors of $100 each and the other by 100 donors of $1,000 each. The money in each of these funds is to be invested and untouched for the next 100 years. Each fund should be worth $100 million by 2116, enough to grant $5 million annually to effective Indianapolis not-for-profits "for the public good." What an amazing and generous legacy gift to help celebrate the foundation's 100th.
Another CICF program is more immediate and has special meaning for those of us at IBJ. For the second year in a row, IBJ's Forty under 40 honorees were invited by CICF to award $40,000 to local not-for-profits. Our honorees participated in a workshop and were led by CICF's philanthropic services team to discover their individual philanthropic values and interests—just as many donor families do with CICF. They developed a mission statement to guide their grant-making decision. And they collaborated via a process that led them to a consensus on where to grant the money.
The 2016 class decided to award $15,000 to OpportunityINDY to provide transportation services for young black men in the 46218 ZIP code during non-school hours to experience opportunities in culture, employment and education. The remaining $25,000 was awarded to John H. Boner Community Center to support the creation of a neighborhood-led task force to help low-performing Indianapolis Public Schools on the near-east side. I offer our sincere thanks to CICF for giving this philanthropic opportunity to our emerging community leaders.
I hope I've provided insight into a treasured organization that is truly changing the world for the better and changing lives forever. You can find out more at www.cicf.org.•
__________
Morris is publisher of IBJ. His column appears every other week. To comment on this column, send e-mail to gmorris@ibj.com.
Please enable JavaScript to view this content.