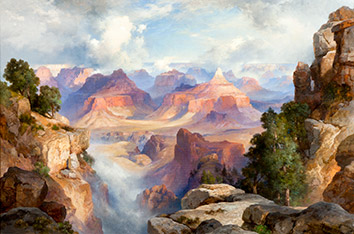 Six million years old and 10 miles across, the Grand Canyon—as visitors can vouch for—is unforgettable. Difficult to wrap your mind around when you are mere inches from its lip, it's an even greater challenge to encapsulate in a museum show 1,700 miles away.
Yet, even though it is only able to hint at the awe-inspiring real thing, the Eiteljorg Museum of American Indians and Western Art's new show, unambiguously titled "The Grand Canyon" (through Aug. 7), is well worth an expedition.
Like 2015's "Gold! Riches and Ruin," it mixes art and artifact, text and touchscreens to tell its multi-pronged story. Unlike that show, though, "The Grand Canyon" is focused on both the then and the now.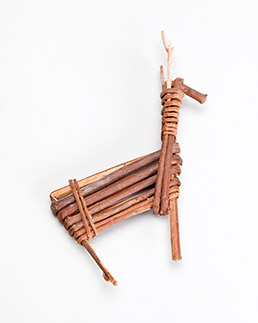 Both fine art and artifacts including a 4,000-year-old twig figure is featured at the Eiteljorg Museum.
And the then goes back a long, long way. A 505-million-year-old fossil and a pair of 4,000-year-old split-twig figures of sheep and deer remind us that, when it comes to the Grand Canyon, time can be as humbling as space.
As for that space, well, you might have noticed the JW Marriott across the street from the museum. A wall display points out that 14 clones of that hotel would have to be stacked on top of one another to reach from the base of the Grand Canyon to its rim.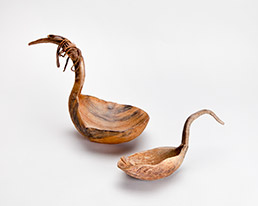 Baskets and ladles crafted by Native Americans from local tribes are among the items displayed in the Eiteljorg's "The Grand Canyon."
 (Photos courtesy of Hadley Fruits)
Weaving through the show are threads showing the canyon as an environment, as an experience, and as a place to inspire expression. Included: a 1750 Spanish shield (with battle scars galore), Native-American-made goods crafted for tourist purchase, train signs, ranger uniform pieces, and even a selfie stick. The exhibit becomes more personalized via a slide wall incorporating family photos submitted through the Eiteljorg website. Online voting will eventually lead to someone winning a camera, which might encourage a future Ansel Adams—whose work, of course, is also part of the show.
(For the record, there is no reference in "The Grand Canyon" to the Brady Bunch's three-episode family vacation there.)
To no surprise, very few of the paintings in the show incorporate human figures, the artists opting instead to let nature take the lead. Some of the artwork included from the Eiteljorg collection might be familiar to frequent museum visitors. Less traditional pieces include a wood-block print by Hiroshi Yoshida and a striking abstract by Henry Fonseca. Events tied to the show include a two-day painting workshop with artist Peter Nesbit (for $500, which seems steeper than the most treacherous slopes of the canyon).
Much play is given to Fred Harvey (of "Harvey Girls" fame) and his heirs, who built an empire of hotels and restaurants along the Santa Fe train line, including one at the Grand Canyon. His company helped transform this natural wonder into a more accessible tourist attraction, and the show offers a wealth of material on the company and its properties. One odd, fun standout: An interactive devoted to Harvey and company includes menu art by William Dean Fausett that defines—through comic illustrations—the seven stages of drunkenness, from verbose to comatose.
Near the exit, you can attempt to fly a helicopter via touchscreen technology and 360-degree video (I failed miserably on my first flight), or stretch your arms to see how they compare to the wingspan of a California condor, whose call is part of the soundtrack for the show.
There's also a sign encouraging those exiting to do some gift purchasing in the pop-up shop as a continuation of the Fred Harvey tradition. That the Eiteljorg has one of the coolest museum gift shops in the area mitigates the tackiness of the sales pitch a bit.•
__________
This column appears weekly. Send information on upcoming arts and entertainment events to [email protected]
Please enable JavaScript to view this content.