You can't cook our cold medicine into crystal meth.

That could be the marketing message of Acura Pharmaceuticals Inc., a small company angling to pick up more business in Indiana, where state officials are trying to curtail illegal methamphetamine labs.

Acura's message could be ripe, in the wake of a law signed last month by Gov. Mike Pence that gives pharmacists the right to limit how much cold medicine customers can buy.

The new law is meant to keep cold medicine out of the hands of meth cooks. Popular cold medicines such as Sudafed contain pseudoephedrine, a key ingredient used to make methamphetamine.

Indiana has led the nation in meth lab seizures the past three years. Thousands of meth labs, most in rural areas, have been discovered by authorities since 2014.

Under the law, pharmacists will be able to refuse to sell products containing pseudoephedrine to unfamiliar customers. If they don't recognize the customer, they could recommend the customer buy a meth-resistant product.

That's where Acura comes in.

The 13-year-old company, based in Palatine, Illinois, with a research center in Culver, Indiana, launched a meth-resistant cold medicine in 2012, called Nexafed.

Nexafed is as effective as Sudafed in relieving nasal congestion, according to a study Acura's researchers published in the American Journal of Drug and Alcohol Abuse.

And even though Nexafed uses pseudoephedrine, it also contains a polymer technology that forms a thick gel when dissolved. That makes the pseudoephedrine difficult to isolate for meth purposes.

But the company faces a major challenge: It must persuade pharmacists to recommend Nexafed to cold sufferers when they go to the counter for medicine, rather than the familiar Sudafed, which dominates the market.

So far, it's been an uphill battle. Nexafed is stocked in only about 20 percent of U.S. pharmacies, according to Acura's financial statements.

Rivet
And even where the product is available, many pharmacists "choose not to really promote it or use it to their maximum capability to help reduce meth labs," said Brad Rivet, Acura's vice president of marketing.

The company does not break out sales figures by product, but rang up total revenue last year of $8.6 million. That's a small fraction of the U.S. retail market for over-the-counter cold and allergy products containing pseudoephedrine, estimated at $700 million.

Nexafed's main competitor for meth-resistant cold products is Zephrex-D, made by Westport Pharmaceuticals, a private company based in St. Louis.

The Indiana Pharmacists Alliance, which represents about 7,200 pharmacists across the state, did not return several telephone calls to comment on Nexafed or Zephrex-D.

But the alliance has pushed hard to keep Sudafed and similar products available to customers without a prescription, while giving pharmacists more power to limit quantities. Some Indiana lawmakers have been pushing in recent years to require a prescription.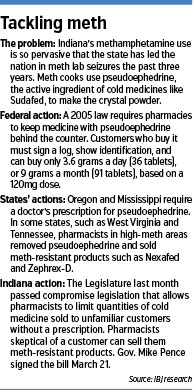 "Over the past 2.5 months, Indiana Pharmacists Alliance and Community Pharmacies of Indiana have lobbied the Indiana statehouse to keep pseudoephedrine an [over-the-counter] product and to significantly halt illegal methamphetamine manufacturing in Indiana," the alliance said on its Facebook page last month.

The law was heavily opposed by the Consumer Healthcare Products Association, whose members manufacture or distribute over-the-counter drugs and nutritional supplements. Johnson & Johnson, the company that makes Sudafed, did not respond to requests for comment.

Acura's main pitch to pharmacists: Recommend Nexafed so you don't have to make judgments as to a customer's intentions.

"It's kind of a fail-safe choice for pharmacists to make," Rivet said. "They don't have to worry, 'Hey, does this patient have a prescription record in my store or not? Do they look a little nefarious? Am I making the wrong choice by giving them pseudoephedrine when I should give them something else?'"

Methamphetamine is a powerful, extremely addictive stimulant that is taken orally, smoked, snorted, or dissolved in water or alcohol and injected, according to the National Institute on Drug Abuse.

Smoking or injecting the drug delivers it quickly to the brain, where it produces an immediate, intense euphoria.

What Acura researchers developed is a technology that disrupts the extraction and conversion of pseudoephedrine to methamphetamine. If abusers try to dissolve Nexafed to make meth, the inactive ingredients and polymers form a gel, making the meth yield much smaller, the company said.

But despite all the headlines over the meth epidemic, Acura has had trouble making money or getting attention from Wall Street.

No major analysts follow the company's stock, which traded at about $13 a share when it launched Nexafed in December 2012. In recent months, shares have traded for less than $3.

The company has lost money for at least the past three years, with a loss of $4.9 million last year. Acura has only about 15 employees. It has developed other technologies to make medicines, including opioids, harder to abuse.•