In light of Carrier Corp.'s decision to move jobs to Mexico, what should the federal government do—if anything—to try to keep manufacturing in the United States?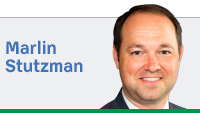 No matter how many layoffs or corporate relocations are announced, too many politicians have refused to risk their own jobs fighting for the big policy changes that could actually reverse the trend. Instead, they "go along to get along" and just try to sound optimistic long enough to get re-elected. I reject this type of short-sighted leadership. If we stand together and demand the real changes that are necessary, we can jump-start our economy. We can bring back lost jobs and foster innovation to create the jobs of the 21st century.
The first step that will impact every American family and business is to overhaul our broken tax code. No economy can thrive under a system that discourages success, double-taxes earnings, and requires teams of professionals for compliance. By replacing our tax code with simple pro-growth reforms like the FairTax Act of 2015, which I have co-sponsored, and transitioning to a territorial tax system, we can stop companies from moving overseas. With these reforms, foreign businesses would be motivated to move here for a change. I have spoken with hundreds of businesses leaders in Indiana and in D.C., and 100 percent of them would prefer to grow in the United States. All we need to do is to give them that opportunity.
Second, too many Washington regulators are now writing rules for businesses they simply do not understand or, in some cases, industries they actually dislike. From the Environmental Protection Agency and the Department of Labor's rules that are harming farmers and manufacturers to the Consumer Financial Protection Bureau's over-burdensome paperwork requirements for banks, law-abiding citizens and businesses are getting squeezed.
The government has a role to play in stopping criminals and preventing bad actors; however, there comes a point when the bureaucrats become the problem. We need common-sense rules, and fewer rules altogether, for businesses to succeed.
Finally, when discussing the challenges facing employers, I cannot get through a conversation without the mention of Obamacare. The consensus from Hoosier businesses and families: It needs to be repealed and replaced.
The supporters of Obamacare claimed it was going to make health care cheaper and more accessible. However, six years later, our health care system is worse and millions of Americans feel it firsthand. Obamacare's top-down approach has put a strain on our communities and businesses; for the health of our economy, it must be repealed. In its place, we need patient-centered, market-based reforms that take the burden off employers and provide affordable solutions for families.
If nothing changes over the next 10 years, the Congressional Budget Office projects slow growth and an almost $30 trillion national debt. These challenges for our economy and country demand real leadership; otherwise, businesses will continue to leave and American workers will be left holding the bag.
I reject that future. As a member of Congress, I will continue to place my bets on the American worker, not the federal government.•
__________
Marlin Stutzman is a congressman representing Indiana's third congressional district. He is also seeking the Republican nomination in the May primary to run for U.S. Senate. Send comments to ibjedit@ibj.com.
Please enable JavaScript to view this content.