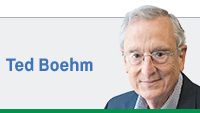 The Indiana University Public Policy Institute recently released "Thriving Communities, Thriving State," a study of Indiana's strengths and weaknesses and recommendations for action. The report is the result of a year-long examination of Indiana's communities by three separate commissions. Rather than segmenting the state by geographic area, the commissions were charged with focusing on communities of different sizes—rural, midsize and urban—regardless of location.
Later this year, the Bicentennial Commission will also release its extensive review of the state of our state, focusing on where we should go from here. That study was also developed by citizen panels, this time organized by 12 subject matters. Studies such as these can establish goals and needs and may reveal broad consensus on some important next steps. But converting this research into action is often not so easy.
Maybe a few readers will recall the 1993 "visioning" exercise that engaged several dozen representatives from a broad range of Indianapolis businesses, not-for-profits and public officials over several months at a cost of $250,000. But does anyone recall any follow-up?
One danger of a wide-ranging study is that it necessarily addresses multiple important and complex issues. The broader the recommendations, the harder it is to move forward because of the seeming impossibility of marshaling the intellectual, financial and human resources required to deal with all these problems simultaneously. Picking a few realizable steps and doing them well is a path to progress.
A couple of the IUPPI findings might suggest low-hanging fruit. As you might expect, education and workforce preparation were at the top of all three commissions' lists of needed changes. The specifics in these areas—pre-K, vocational education, etc.—implicitly or explicitly suggested programs that would require significant additional governmental funding. But the IUPPI commissions also placed top priority on "leadership development" and "quality of life" in communities of all sizes. These can be advanced by private initiative with or without government support.
Some communities, mostly larger ones, already have programs aimed at engaging and developing potential leaders. For 40 years, the Stanley K. Lacy Executive Leadership Series, largely funded by the Lacy Foundation, has offered classes to expose future Indianapolis leaders to areas of community concern it describes as "education, government, health and human services, the justice system, diversity, quality of life, economic development and more." SKL alumni have collectively made an enormous contribution to this city's economic, social and cultural well-being.
Such programs have proven difficult for smaller communities to manage and fund. But several existing programs and organizations have parallel or complementary programs. Perhaps it is time to revisit concepts that have been floated in the past to fill this unmet need. Community foundations in counties too small to sustain a program could pool resources. How about a leadership academy for high school seniors?
"Quality of life" is, of course, a big tent. Private resources can make a difference if targeted to specific, realizable enhancements of quality of life, whether they be parks, recreation, arts and culture, youth sports or whatever else the local community chooses.
Under our current tax structure, most local units of government are struggling to supply basic services. If leadership development and quality of life are indeed unmet priorities throughout Indiana, the Legislature should consider funding, small in comparison to the state's budget but large enough to support decentralized, locally focused programs.•
__________
Boehm is a retired Indiana Supreme Court justice who previously held senior corporate legal positions and helped launch amateur sports initiatives in Indianapolis. Send comments on this column to [email protected]

Please enable JavaScript to view this content.