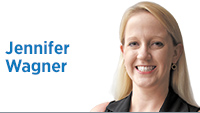 "You Democrats and your superdelegates," my Republican friends would say. "What do you need them for, anyway? Why not just let the primary process play itself out?"
As Indiana's primary is once again poised to matter nationally, and as outspoken billionaire Donald Trump is poised to narrowly sew up the GOP nomination or potentially force the party to a bitter, contested convention, I say to my friends, "Now do you get it?"
I've heard all the arguments against the additional Democratic delegates, the oft-maligned "establishment" types who are free to pledge their support to the candidate of their choice instead of being bound by primary or caucus results.
It's not fair to let insiders pick the nominee, the naysayers contend. It should be an open, democratic process.
Let's think that through.
First, the superdelegates in each state include some of the highest-ranking elected officials: governors, senators, members of Congress.
These are people who've not simply won primary elections, but have also been successful at the ballot box in November. So they presumably know a thing or two about their home states' political electorate and climate.
Second, let's dig into the notion that primary or caucus voters represent the will of an entire party.
I have a particular beef with caucuses, which are un-democratic because they significantly limit the number of participants and frequently register turnout numbers at each caucus site that are closer to a high school student council election than what you'd expect in a presidential race. Voter participation in primaries is dismal compared to general election turnout.
Finally, it's not like the superdelegates are kept under lock and key, their identities unknown to the candidates seeking their support. Quite the contrary: State parties begin constructing delegate-selection plans, which include the superdelegates, months before a presidential election year is upon us.
If candidates want to know who they are, they can look them up, then lobby them for their votes. It's actually one of the least complicated components of a delegate-selection plan, which the general public now understands is a very complicated—and different—process from one state to the next.
But all of this brings us to a bigger question: Why do superdelegates exist within the Democratic Party?
They provide stability and a voice of reason—or at least a voice to raise questions about electability and what's best for the future of the party. When each cycle's wave of fresh-out-of-college campaign staffers comes flooding into our state, it makes me feel like a political old-timer. But the truth is, I'm a still a relative newcomer.
Call me sentimental, but I love hearing from party elders about the way things went down 30 or 40 years ago—who got mad at whom and why certain rivalries exist to this day. I hope someday that a younger generation will patiently listen while I talk about the grueling 2008 primary or the December to Remember (not the Lexus commercial).
Superdelegates have that perspective and can help those in the thick of a campaign see the forest for the trees.
The goal of both parties, after all, is to nominate a candidate who can compete to win the White House.
Looking across the aisle as my GOP friends scramble to find a way to stop Trump from becoming a potentially disastrous nominee, I don't feel even a twinge of guilt that we installed a political fail-safe to help prevent a similar situation.•
__________
Wagner is a lifelong Indianapolis resident and founding principal of Mass Ave Public Relations, a local public relations and publicity firm. Send comments on this column to [email protected]

Please enable JavaScript to view this content.