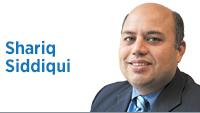 The legislative session concluded with Indiana's leaders choosing ideology over common-sense ideas. Chief among these issues was the failure to provide a sustainable long-term plan for how to maintain our roads and infrastructure, just so Gov. Pence could head into an election saying he didn't raise taxes.
The plan the governor rejected wasn't a left-wing idea from the fringe of the Democratic Party but from his own conservative Republican super-majority in the Indiana House.
The Indiana House Republicans sought a long-term solution that would require taxing cigarettes and gasoline taxes. Their plan sought to provide funding in the long run so we wouldn't end up dealing with our deteriorating infrastructure only when our bridges collapsed and our roads were crumbling.
The Indiana House Republicans understood that eight years of Gov. Mitch Daniels had stripped government to its very bare bones. When government is stripped bare and there is a public unmet need that is the responsibility of government, the only other choice remains taxing citizens.
There is little debate among either party that maintaining our roads and bridges is a public responsibility. There is little debate that no wasteful spending remains in state government. There is little debate that our roads and bridges are in desperate need of attention and funding.
Despite this bipartisan reality, the governor sought to kick the can down the road so he could demonstrate ideological purity. He drew down funds from Indiana's surplus that was meant to stay in place should we, God forbid, be faced with another economic downturn or recession.
The surplus was the result of painful cuts across state government. They were especially painful among public schools. If we are to draw from that surplus, shouldn't we restore the funding for public schools first? If the surplus is more than what the state requires to weather a future recession, shouldn't we return funds to taxpayers?
But the governor is faced with an election-year issue because, under his watch, our roads and bridges have been neglected. To respond to that critique, he must respond with some action.
The governor missed a perfect opportunity to push back against critics who say he places ideology over our state's interest. The RFRA mess is among a few of the many examples that critics (in both parties) would argue illustrate a departure from a successful conservative tradition of making the state work to foster economic development.
A lawmaker who refuses to serve the people of Indiana using a common-sense, conservative approach in favor of puritan ideology should choose another form of government. Puritan ideology is better reserved for our places of worship, academic debate and business.
It is unfortunate that the governor failed to meet his responsibility to the people of Indiana because he chose ideology over conservative ideas.•
__________
Siddiqui is an attorney, has a doctorate from the Lilly Family School of Philanthropy at IU and leads the Association for Research on Nonprofit Organizations and Voluntary Action. Send comments on this column to ibjedit@ibj.com.

Please enable JavaScript to view this content.