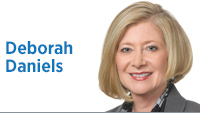 Our community is rightly focused on homelessness and its prevention. How do people find themselves in a state of homelessness? How can we prevent that from happening to others?
I suggest we start with this: A primary cause of homelessness for women is domestic violence. According to the National Center on Family Homelessness, about 50 percent of all homeless women say domestic violence was the immediate cause of their homelessness. The Journal of the American Medical Women's Association reports that 84 percent of homeless women have experienced severe physical or sexual abuse at some point in their lives.
The act of leaving an abusive relationship is fraught with fear and danger. It is often then that a victim of abuse is most likely to be seriously injured or killed. Safe housing is essential.
We celebrate the availability of shelter space in Marion and other counties for women who develop the courage to leave an abusive home, often taking young children with them. Of course, there is never enough shelter space; and, by its nature, the shelter space is not available for long. So what comes after shelter?
In the mid-1990s, a commission appointed by then-Mayor Stephen Goldsmith realized a significant gap existed in the services for victims of domestic violence. There was no next step available for those who had escaped abuse and perhaps had been lucky enough to find shelter for a while. They would have to leave the shelter soon after arriving in order to make room for others, but those who left often had nowhere to go. Faced with an impossible choice, some surely returned to their abusers.
Luckily, many good people stepped up to this challenge, and Coburn Place Safe Haven was born. Its doors opened in April 1996, 20 years ago this month. A former public school and later a residential facility for the elderly, the building was transformed into apartments to house survivors and their families. Through corporate giving and volunteer assistance, it was furnished with everything young families needed. With the help of grant funding and philanthropy, services including counseling, financial literacy, workforce training and support groups were provided.
Since 1996, Coburn Place has provided more than 1,700 people with safe housing for up to two years, along with the critical services they need to become self-sufficient. The facility reports that 87 percent of its clients have established permanent housing since leaving Coburn Place, and numerous individual success stories abound.
A woman who spoke at a recent event honoring the organization's many survivors of domestic abuse told an emotional and inspiring story of how her life was changed by the many supportive people she found at Coburn Place. She went to the facility pregnant and terrified; but in the intervening eight or nine years, she has obtained a college degree, is completing a graduate degree, is gainfully employed and is raising her young son, in her own home, to be a responsible young citizen. It was evident that both she and her son will be successful in life.
But here's the down side: In January 2016, there were 204 people on the waiting list for the facility. While the history of Coburn Place is a wonderful success story, there is still insufficient housing for victims of domestic violence to serve the needs of our community.
April 10-16 is National Crime Victims' Rights Week. Let's wish Coburn Place Safe Haven a very happy 20th birthday, and dedicate ourselves to expanding services for this population so in need of our help.•
__________
Daniels, managing partner of Krieg DeVault LLP, is a former U.S. attorney, assistant U.S. attorney general, and president of the Sagamore Institute. Send comments on this column to ibjedit@ibj.com.

Please enable JavaScript to view this content.