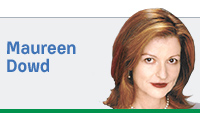 You could hear how hard it was for Donald Trump to say the words.
"Yeah, it was a mistake," he said, sounding a bit chastened. "If I had to do it again, I wouldn't have sent it."
I was telling him he lost my sister's vote when he retweeted a seriously unflattering photo of the pretty Heidi Cruz next to a glam shot of his wife, Melania.
He repeated his contention that he didn't view the Heidi shot "necessarily as negative." But I stopped him, saying it was clearly meant to be nasty.
Trump also got into his schoolyard excuse of, "He did it first" and "That wasn't nice," insisting that Ted Cruz wrote the words on the digital ad put up by an anti-Trump group aimed at Utah Mormons; it showed Melania in a 2000 British GQ shot posing provocatively and suggested it was not first-ladylike. Cruz denies any involvement.
It's ridiculous how many mistakes Trump has made in rapid order to alienate women when he was already on thin ice with them—and this in a year when the Republicans will likely have to run against a woman.
He did a huge favor for Hillary Clinton, who had been reeling from losing young women to a 74-year-old guy and from a dearth of feminist excitement. And for Cruz, who started promoting himself as Gloria Steinem, despite his more regressive positions on abortion and other women's issues.
In an MSNBC interview with Chris Matthews, the formerly pro-choice Trump somehow managed to end up to the right of the National Right to Life Committee when he said that, for women, but not men, "there has to be some form of punishment" if a President Trump makes abortion illegal.
Trump quickly recanted and even told CBS' John Dickerson that "the laws are set. And I think we have to leave it that way."
I pressed, how he could possibly win with 73 percent of women in this country turned off by him?
He chose another poll, murmuring, "It was 68 percent, actually."
Trump doesn't have a plan to turn it around with women.
"I'm just going to be myself," he said. "That's all I can do."
I asked how he would get past the damage done by his insults about women's looks.
"I attack men far more than I attack women," he said. "And I attack them tougher."
How do you rate your own looks, I asked.
"Phenomenal," he said with a trace of self-deprecation. "Hey, it's worked. What can I say?"
He was trying to be careful—an unfamiliar approach—in talking about women.
The front-runner has a right to be paranoid, with everyone plotting to steal his prize. He said he doesn't want to "act like someone overly aggrieved," but he was stewing in aggrievement about how "unbelievably badly" he gets treated by the press.
"I do enjoy life a lot and I have fun with life and I understand life and I want to make life better for people, but it doesn't come out in the media," he said.
Has he missed the moment to moderate, to unite, to be less belligerent, to brush up on his knowledge about important issues?
"I've come this far in life," he said. "I've had great success. I've done it my way."
He added: "You know, there are a lot of people who say, 'Don't change.' I can be as presidential as anybody who ever lived. I can be so presidential if I want."
Then start.•
__________
Dowd is a New York Times columnist. Send comments to ibjedit@ibj.com.
Please enable JavaScript to view this content.