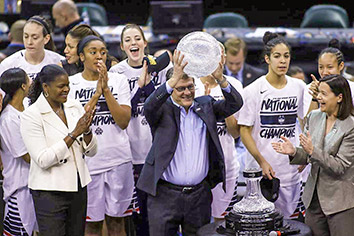 And so it ended on April 6, the all-you-can-watch basketball buffet at Bankers Life Fieldhouse, otherwise known as 54 games in 43 days.
Let's see, 36 teams won at least once, 49 teams lost. There were just under 8,000 points scored, more than 440,000 customers, 30-odd national anthems played, 16 arena reconfigurations, 15 championships decided, enough nets cut down for hundreds of scrapbooks. And on one of the nights with no basketball—Barry Manilow!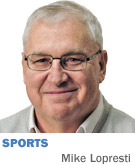 A diary of six hoops-heavy weeks on Pennsylvania Street:
Game 1. Paul George, his A game arriving later than L.A. fans, scores 25 of 27 points in the second half in win over Knicks.
Game 5. Heritage Christian girls take seventh state championship since 2006. "Our team motto is, 'Continue the tradition,'" says Tyasha Harris after 27 points. All the other teams' motto: "What, them again?"
Game 7. Loss to Portland earns Pacers this rebuke from George: "There's no toughness."
Game 15. In case you wondered, the Indiana women wear striped warmup pants, too. The Hoosiers are upset in the Big Ten tournament by Northwestern, whose coach, Joe McKeown, mentions employing the HTM defense. "You wonder what HTM means?" he asks. "Hope they miss."
Game 20. That's Coach Brenda Frese posing for selfies with the pep band after Maryland wins the Big Ten title. The Terps own Big Ten women's basketball, lock, stock and ponytails, going 40-2 in league competition their first two years. "You could look from the outside and maybe think it's easy," Frese says. "And it's anything but."
Game 21. Here's something you don't see every day. No, not Larry Bird on kiss-cam from his corner seat. Pacers beat Spurs, after going 1-15 their previous 16 meetings. Frank Vogel: "Best home win of the season."
Game 22. Because of suspensions and injuries, the Minnesota men are down to eight players (five on scholarship) for the Big Ten tournament. The Gophers bring more cheerleaders than that, so the 85-52 thrashing by Illinois is no shocker.
Game 23. It's the baby crawl contest at halftime. A little boy in a Michigan shirt wins. Jim Harbaugh probably wants to recruit him.
Game 24. Julia Louis-Dreyfus is in the house to see son Charlie Hall and Northwestern lose to Michigan. Wolverine band plays "The Victors" 116 times, but not once the theme from "Seinfeld."
Game 28. Indiana gets beaten at the buzzer on a 3-pointer by Michigan's Kameron Chatman, who had made seven all season. Angry ticket scalpers, deprived of an Indiana-Purdue Big Ten semifinal, call for Tom Crean's head.
Game 34. Michigan State holds off Purdue for Big Ten men's title. Stage foreman Jerry Horne worked 52 of the 54 games, and the Spartans section is what he most remembers from them all. "It was deafening. It was impressive, because that's only half the building making that noise." Red Panda—the lady who kicks bowls onto her head while riding a unicycle—is the halftime show. With Quick Change—the woman who switches outfits in eye-blinks—and the Firecrackers jump-rope squad having performed in earlier games, the conference hired a dream team of halftime acts. Indy won't see the Big Ten men back until 2020.
Game 36. Pacers lose in overtime to Toronto. Another close loss. "They're all the same," George says. "We don't do enough."
Game 37. Pacers lose to Oklahoma City, but not without one big cheer—when the score is announced from the Indiana-Kentucky NCAA tournament game.
Game 38. Hail, Bankers Life. Victory over the 76ers clinches the Pacers' 27th consecutive home winning season, longest streak in the NBA. Take that, Golden State.
Game 40. The Bloomfield cheerleaders at the boys state finals actually do "two bits, four bits, six bits, a dollar …" Ah, nostalgia. Makes you want to go dial a rotary phone.
Game 43. The Romeo Langford Era officially dawns as the sophomore leads New Albany to the state 4A championship. If he's back next year, they'll need extra rows for all the college coaches.
Game 45. A fan hits seven free throws while sitting on a couch. The Pacers don't fare quite so well standing on their feet, and lose at the end to the Bulls. The reading on the vexation-o-meter? "It's at its peak," says George.
Game 48. Pacers lose by 20 to Orlando. Rumor spreads the Hickory Huskers are demanding their uniforms back.
Game 49. Sun comes up in east, UConn women win by 29 in the Final Four.
Games 51-52. Lubbock Christian is unbeaten champion in Division II. Thomas More, unbeaten champion in Division III. Scott Fishman worked statistics for 52 of the 54 games. His highlight: "All the new teams that have never been in this building, just to watch all their reactions to what we see all the time. The D-II and D-III teams, they're used to playing in front of a hundred fans, and we had 6,403 people. That's 6,300 more people than they're used to seeing. You could tell they were a little tense the first couple of moments but once they settled down, you could see they really enjoyed being here."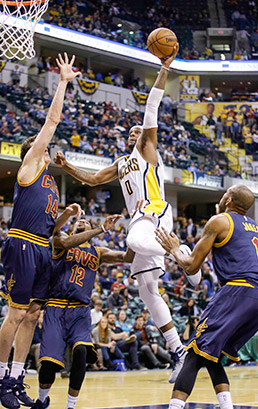 The Indiana Pacers finished Bankers Life's basketball buffet with a 123-109 win over Cleveland April 6, including C.J. Miles' second-half shot over Sasha Kaun. (AP photo)
Game 53. Unbeaten UConn completes four-peat, so the three women's champions in two days finish a combined 106-0. Geno Auriemma's 11th national title pushes him past John Wooden, and it happens 30 miles from where Wooden was born.
Indy gets a tough break when no nearby, big-draw names advance here with UConn (that means you, Notre Dame and Louisville). Final Four attendance—the championship game draws under 15,000—is its lowest in 22 years.
Game 54. That guy at the end of the Cleveland bench in a tan sportcoat?LeBron James. Cavs give him the night off. Good thing the parents of all those kids in the stands wearing James jerseys had paid hefty NBA prices because they really wanted to see Timofey Mozgov. Pacers roll, with Chuck Pagano watching courtside, possibly dreaming it's like this when the Houston Texans come to town.

And on the 43rd day, the buffet closed, but not the basketball season. That's open 24/7 in Indiana.•
__________
Lopresti is a lifelong resident of Richmond and a graduate of Ball State University. He was a columnist for USA Today and Gannett newspapers for 31 years; he covered 34 Final Fours, 30 Super Bowls, 32 World Series and 16 Olympics. His column appears weekly. He can be reached at mlopresti@ibj.com.
Please enable JavaScript to view this content.