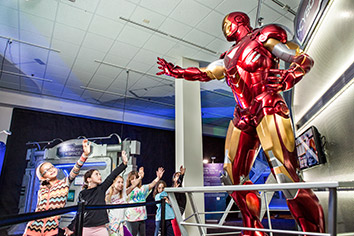 When my kids were young, one of the distinct pleasures of visiting The Children's Museum of Indianapolis was the way plans didn't always quite work out.
Oh, we might have gone in with the intention of spending most of our time in ScienceWorks or the What If …? galleries. But then something would catch an eye and we'd end up captivated by a pop-up arts studio, playing dress-up, or catching a theater production.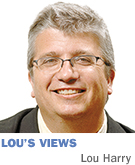 Rather than seeing these as plan derailments, though, we embraced them for their serendipitous pleasure.
Some things don't change.
Recently, I visited the Children's Museum, solo, intending to write exclusively about "Alien Worlds and Androids" (through May 1). Soon, though, I found my attention
focused elsewhere.
Not that there's anything problematic with "Alien Worlds and Androids" (apart from some dated material, including a display that says, "Voyager 1 is set to become the first spacecraft to travel beyond our solar system in 2014").
It's primarily a mix of costumes from popular science fiction—including Darth Vader and Iron Man—and display boards/interactives inviting visitors to try to stack objects using a robotic arm or see how long it would take to get to various places in space via different modes of transportation. (A journey to Saturn on a Boeing 757, for instance, would take 10.3 years.)
The exhibit displays an odd but interesting fascination with tiny organisms, pointing out that our mouths might be home to 5,000 species of bacteria and that only one in 10 cells in the human body is a human cell. How this relates to the replica of the creature from "Alien," which looms over it, is loosely explained.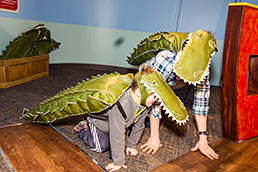 Costumed play is a highlight of "Pirates and Princesses." (Photo courtesy of The Children's Museum of Indianapolis)
Across the atrium, a higher-energy crowd was taking in "Pirates and Princesses: Storybook Adventures" (through Nov. 27). Here, displays including an authentic 1500s German suit of armor and the Cinderella costume from the film version of "Into the Woods" take a back seat to photo ops in a throne-room play area, a chance to fight with a video dragon (at a very mild intensity level), and treasure hunting on and off a pirate ship.
Extra points to the exhibit designers for the alligator costumes and for keeping images of specific movie versions of such tales to a minimum, allowing the exercising of maximum imagination on the part of the miniature target audience. This kind of show might test parents' patience because it is so focused on the little ones—you are more likely to see grown-ups rather than kids trying to move onto the next area.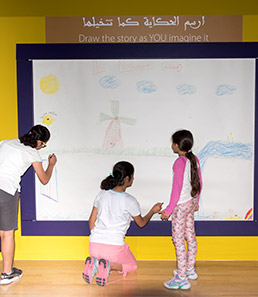 Art is central to "Fables Across Time: Kalila and Dimna." (Photo courtesy of The Children's Museum of Indianapolis)
Decidedly more tranquil is "Fables Across Time: Kalila and Dimna" (through June 12), a lovely effort to showcase classic Arabic tales. Digital e-books, live performances and art opportunities are all part of the mix.
I suspect there will be parents of those not versed in the tradition who might bypass the exhibit, but I encourage them not to. Remember that the Children's Museum, at its best, is a place of discovery, not just of recognition.
And I can only imagine the pleasures for those having their childhood memories acknowledged, appreciated and brought to life in such a gently creative way.•
__________
This column appears weekly. Send information on upcoming arts and entertainment events to lharry@ibj.com.
Please enable JavaScript to view this content.