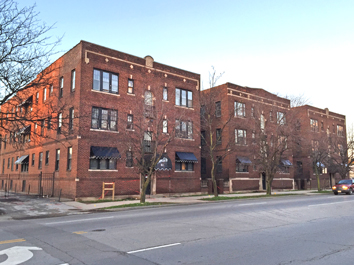 A local developer has purchased a trio of dilapidated apartment buildings on the near-north side and is embarking on a $5.6 million revamp and expansion of the property.
Urban residential specialist Axia Urban LLP bought the former Bon Air Apartments at 21 W. 16th St., between a Walgreens pharmacy and Shell service station, through the entity 21 West LLC.
The project, dubbed 21 West, will feature 65 "upscale" market-rate apartments when finished, said Gary Levine, a partner at Axia Urban. Construction should start by fall and finish in 18 months.
"We think it's going to be a definite improvement to the area," he said. "With the possible Methodist expansion, we think there's going to be demand for this kind of housing."
The brick, 1920s apartment buildings sit less than two blocks east of the Methodist Hospital campus. They're now vacant and will be completely redone, Levine said.
IBJ reported April 11 that Indiana University Health hopes its $1 billion plan to expand Methodist will spawn development south of the campus, creating an area where employees can live adjacent to where they work.
After buying the Bon Air buildings in November from Bon Air Apartments LLC, Axia helped remaining residents find new housing. The developer also bought land behind the buildings from locally based Sandor Development to accommodate the expansion.
Now, Axia Urban is seeking a zoning variance to reduce the number of required parking spaces from 98 to 56. Department of Metropolitan Development staff recommends approval, and a city zoning board is set to hear the request April 12.
"One of the problems was that there was no parking," Levine said. "This will give you parking for those buildings."
Each three-story building housed 18 units, for a total of 54. Axia Urban's plans call for 14 one-bedroom units in the two perimeter buildings, in addition to 18 studios and two one-bedroom apartments in the middle structure, for a total of 48 in the three existing buildings.
The new building that will be at the rear of the property will have 17 units, including three two-bedroom apartments.
Unit sizes will range from 500 square feet for the smallest studio to 1,150 square feet for a two-bedroom, and monthly rents from $695 to $1,500, Levine said.
Bringing more housing to the area, particularly the market-rate variety, could help improve the area's dining options.
Fast-food staples McDonald's, White Castle and Hardee's line the north side of 16th Street. But a broader range of options are beginning to emerge. Two blocks east, Penn & Palate opened last year in the Piccadilly building at the northwest corner of Pennsylvania and East 16th streets, and The Thirsty Scholar opened in 2013 in the Penn Arts building at the southeast corner. Both buildings are owned by Reverie Estates.
A3 Design is the architect on Axia Urban's 21 West project. Renderings aren't yet available.The design is subject to the approval of the Regional Center hearing examiner.
21 West isn't Axia Urban's only project on the near-north side. At 2131 N. Meridian St., it's co-developing a 47-unit project with Near North Development Corp. that's under construction. It features 11 affordable units and should be finished in the fall.
 
Please enable JavaScript to view this content.