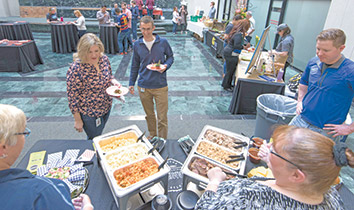 Every Friday, Eleven Fifty Academy hosts a free visitor lunch and tour of the Carmel-based coding school. And every week, the firm's hospitality director, Greg Abes, texts the food order to Nameless Catering LLC at least three days prior.
But at about 9 a.m. on the last Friday in March, Abes realized he hadn't placed his order for that day. So, somewhat panicked, he texted Nameless owner Jeremy Brown.
"U got a busy morning? I need a wrap lunch for 20 at noon??" Abes said.
"One sec let me check," Brown replied. "I am sure we can."
Nameless has won the hearts of Eleven Fifty managers with last-minute saves like that, so much so that it's the only caterer the coding academy uses. Verge, the popular tech-focused network-and-pitch events, also uses only Nameless, and it's the preferred vendor of entrepreneurial organizations like The Speak Easy, Launch Fishers, DeveloperTown and Dreamopolis.
After three years and a significant business-model pivot in 2014, Nameless has become a staple in the city's startup scene.
"I think this startup community has embraced Nameless because they get it," said Verge founder Matt Hunckler, spewing off a list of examples, including "getting" technology and "getting" communication.

Brown

"If you [direct message Brown] on Twitter, he's going to DM back on Twitter. If I'm texting Jeremy, I'm going to get a response in, if not a couple of hours, then a couple of minutes. … You just might not experience that with companies who don't get the tech world."

Several clients said they consider Nameless a disruptor in the stodgy catering industry, even though the company doesn't have innovative food offerings or a radically new business model.

Rather, Nameless has won acclaim for taking a fresh approach to catering—an approach marked by embracing technology, risking failure for new ideas, and dealing with customers in a down-to-earth fashion. It's not uncommon for Brown, for instance, to take same-morning text requests and, on occasion, reply with humorous memes to confirm orders.

Manship

"A lot of people get into the business because they've got a great recipe or a great chef," said Nameless co-founder Jayson Manship. "We got into it because we thought we could do something unique and different with customer service and business."

Nameless' sales have grown 200 percent to 300 percent every month this year compared with the same months last year, and the firm is well on track to surpass the nearly $2 million in revenue it generated last year. The former pizza shop started catering in earnest in summer 2014.

The largest caterer in the Indianapolis area is Kahn's Catering, a 20-year-old operation that pulled in $10.7 million in revenue in 2014.

Nameless has 15 full-time employees, eight part-time workers, and about 45 contracted drivers. It serves a wide swath of central Indiana from three kitchens—in Fort Wayne, Pendleton and Plainfield—and is eyeing opening more.

It has eight menu items, including wraps, salads and Mexican food, and rotates some items in and out seasonally. Many options cost $10 a person, and the company feeds 4,200 to 5,000 people in any given week.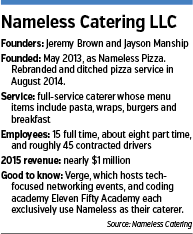 Nameless has embraced a variety of software applications, including enterprise messaging service Slack, task management software BaseCamp and crowd-sourced traffic information app Waze. Brown, 30, has also tapped the services of local tech companies, including Tinderbox Inc. for sales-contract creation needs, and Formstack Inc.'s platform for creating online forms.

Slack is known for its channels, which are essentially user-created conversation threads for specific topics. Nameless has 27 threads for its staff, including one called "menus." A lot of brainstorming takes place on those channels.

"We wanted to switch up one of the salads for our wraps menu," Brown said. "So my team started, at 5:50 a.m. today, discussing raspberry puree and where to get it from and mixing it with raspberry vinaigrette."

Brown floats between a garage office in his Lebanon home and three co-working spaces in the area. If he's not chatting with a staff member via Bluetooth while driving his 2008 Infinity sedan, he might be fielding email orders while chowing down a chicken burrito from Chipotle.

The company does almost no advertising with traditional media, instead spending about $2,000 a month on digital channels including Facebook and Google. It does have trade agreements with Emmis Communications Corp. for radio ads. Those and other trade agreements are typically worth about $1,000 a month.

The company's embracing of technology is due largely to Manship, the 34-year-old co-founder whose primary job is running a local web development company called InSourceCode LLC. Manship's wife and Brown's wife are cousins, and the two teamed up to launch Nameless Pizza in May 2013.

Brown's background is in food service, including stints as a manager for Qdoba and Moe's Southwest Grill. When he and Manship linked up for the delivery-only pizza operation, Manship often schooled Brown on tech etiquette, telling him for instance, not to let Twitter mentions go unanswered for long.

"I wasn't really a tech guy," Brown said. "I am now."

Nameless spent a little more than a year delivering pizzas, adding menu items like salads and pastas along the way. Eventually, pizza represented only a slice of total revenue, but it was a huge pain to produce. So Nameless ditched that menu item.

The willingness to try new things and drop old ones has stuck with the company. Last year, the co-founders spent a few thousand dollars to build out a storefront at the company's Pendleton kitchen to serve walk-in customers. The return on investment was lousy, so they ceased the venture after six weeks.

Clients, including Eleven Fifty officials, said Nameless has distinguished itself with the way it deals with customers. Brown shuns the idea of placing rigid rules around service, such as requirements that orders must be placed 48 hours in advance.

On his Mac Book Air, Brown bookmarked a page called "GQ's 200 Greatest Bro Names." For clients he has rapport with, he'll refer to them with a name like "Brofessor X" or "GI Bro," saying thanks for the order.

Angi Hill, director of administration at local staffing firm SmartIT, said other caterers she's dealt with are "just so corporate."

"Jeremy is just so much more user-friendly," she said. "You tell him want you want and he'll make it happen."

It's doubtful that Brown will be able to maintain the personal touch he's accustomed to as the company grows, and fielding orders might be replaced by administrative and strategic duties.

"That's always the dilemma, I think, of any entrepreneur," said Eleven Fifty Academy President John Qualls, a former executive at cloud services firm Bluelock. "And that's: How do you take your passion and the personal piece that embodies who you are and put it in the culture to make sure everybody gets that?"

Brown acknowledged that he'll likely not be involved in taking orders as the company grows. But for now, he's gradually delegating tasks.

Even if his dealings with customers become less direct, he still wants his company's interactions with customers to be flexible and personable.

"I don't want to have a call center," Brown said, "a 1-800 number based out of wherever that, when you call, you talk to someone who doesn't care—they just want to take your order so they can hang up the phone with you."

Qualls said he's encouraged that Nameless can maintain its mojo, one that so far has been marked by responsiveness and flexibility.

"There's not a lot of certainty in tech at times. Things move really quick and fast," Qualls said. "So a lot of times, we're looking for a partner who can react as fast as some of the things we have to deal with."•

 

 

 
Please enable JavaScript to view this content.