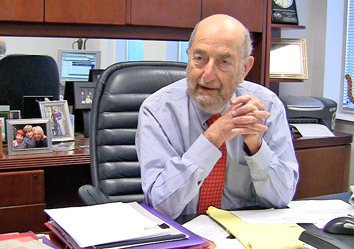 Stephen Russell, who founded Indianapolis-based trucking firm Celadon Group Inc. and grew it into one of the city's largest public companies, died on Friday morning, the company announced. He was 76 years old.
The cause of his death was not immediately clear.
Russell started Celadon in 1985 and steered its growth to one of the largest and most-recognized trucking companies in the country. The publicly traded firm, which employs 900 people locally and about 4,000 people across the country, reported $901 million in revenue in its most recent fiscal year. It was ranked fifth in IBJ's 2016 list of largest Indianapolis-area logistics providers, and 14th on the 2015 list of largest Indianapolis-area public companies.
Russell served as the company's CEO and chairman for most of its existence, but he relinquished his CEO role in 2012 and his chairmanship in 2015. He passed those positions to Paul Will.
"We are deeply saddened by Steve's passing," Will said in prepared remarks. "Our thoughts and prayers are with Steve's family and many friends at this time."
Prior to starting Celadon, Russell held leadership positions at Ford Motor Co., RCA Corp., and Hertz Truck and Equipment Corp.
Former Gov. Mitch Daniels said Russell was a "straight talker and, clearly, a great businessman."
"It's a real loss," Daniels added. "He was a person who did a lot for the state and was a good friend to many."
Russell was an active supporter of the Indianapolis arts community, serving on the boards of the Eiteljorg Museum of American Indians and Western Art, the Indianapolis Museum of Art, and The Phoenix Theatre.
The New York native didn't grow up around trucking. He graduated from Cornell University in 1960 with a bachelor's degree in mathematics and earned his MBA in finance and marketing the following year. He entered the workforce as a financial analyst at Ford, and assumed other finance positions over the years, including vice president of finance at RCA.
He told various media outlets over the years that he got involved in trucking after a chance meeting at a New York toll booth in 1985. He didn't have exact change for the 50-cent fee, so he pulled over and headed toward a change booth. Then he heard someone who turned out to be a former employee honking at him, looking to get his number.
The two chatted the next day, according to trade publication Transportation Topics, and the ex-employee, Leonard Bennett, told Russell he was running a logistics company and needed trucks to carry automobile components between Mexico and Michigan. Russell, then 45, seized the opportunity.
"If I had 50 cents that day at the toll booth, I wouldn't be here," he told the publication in 2014.
Over the next few decades, Russell grew the company in part through acquisitions, scooping up some 35 small and mid-sized outfits, including six in 2013. In 2014, Celadon acquired Pennsylvania-based A&S Services Group LLC, a regional for-hire truckload company, for $55 million.
Today, Celadon operates a fleet of more than 5,000 tractors and 12,000 trailers, and its customer base includes Fortune 500 shippers such as Wal-Mart, Procter & Gamble and General Electric.
Russell had a passion for education and the arts. In 2012, the 135-seat mainstage at The Phoenix Theatre was renamed the Livia and Steve Russell Theatre in honor of Russell and his wife, both active board members. The couple has supported the theater since 2003 and frequently returned from their New York apartment with suggestions for Phoenix shows.
Bryan Fonseca, the producing director at The Phoenix Theater, said Russell stood out for his no-nonsense, straight-shooting style. He had a tell-it-like-it-is sense of humor that was "unfiltered."
"And everybody who knows him will have a specific memory of some joke he has shared with them … and they'll know exactly what that means," Fonseca said.
Fonseca said he first met Russell about a decade ago while Russell was simply a theater patron. About two years later, Livia joined the board, and Russell followed her lead.
"If she was going to be involved and spend a lot of time donating hours to an arts organization," Fonseca said, "then by God, he was too, because he didn't want to be separated."
"We're all just overwhelmed with the news," Fonseca said.
Russell also established the Stephen Russell Distinguished Teaching Award at Cornell University, according to a university web posting in 2008. The award goes to a Johnson School faculty member whose teaching continues to influence graduates five years after graduation.
All of his children are Cornell alumni, the posting said: Melissa Russell Rubel, class of 1985; Stewart Russell, class of 1987, and Jonathan Russell class of 1993.
Jon Russell, who also earned his MBA from Cornell, is president of Celadon's logistics unit.
Steve Russell was one of four laureates inducted into the Central Indiana Business Hall of Fame in 2011. He was selected by the World Trade Club of Indiana as its 2006 Global Business Person of the Year, according to Celadon's executive biography of him, and was awarded the Sagamore of the Wabash by Daniels for his lobbying efforts to get Indiana to adopt daylight-savings time.
Dave Osiecki, executive vice president of the American Trucking Association, said he met Russell in the early 1990s and stayed in touch through the trade association over the years. He said Russell was generous with his time and resources, had a quirky sense of humor and was memorable.
"The trucking industry lost a leader and, perhaps, the most interesting person in the trucking world," Osiecki said. "People call certain people 'characters.' Steve was definitely that. He was unique, and he broke the mold."
Please enable JavaScript to view this content.