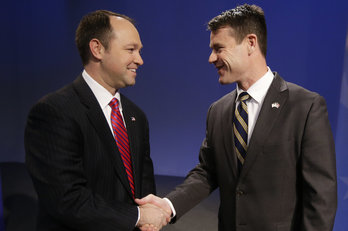 Indiana Republican Senate candidates Marlin Stutzman and Todd Young, who have both run as stalwart conservatives, tried to distinguish themselves from each other on foreign and domestic policy during a debate Monday that largely mimicked the outsider-versus-establishment dispute engulfing the GOP presidential primary.
The tea-party backed Stutzman, who has frequently been at odds with Republican House leadership, sought to portray Young as someone who votes in lock-step with establishment priorities while receiving financial backing from allies of GOP Senate Majority Leader Mitch McConnell. Young sought to portray Stutzman as a career politician, first elected to office in his 20s, who has masqueraded as a political outsider at the expense of pragmatism and compromise.
Stutzman, who co-owns his family's farm operations in northern Indiana, and Young, an attorney from Bloomington, are seeking to replace retiring Republican U.S. Sen. Dan Coats. Former U.S. Rep. Baron Hill is unopposed for the Democratic nomination.
It was the only debate between the two candidates, both of whom were elected to Congress in 2010. The primary is May 3. The debate started off focusing on foreign policy and free trade agreements but eventually gave way to personal attacks, with the two arguing over whose brand of conservatism would serve the state best.
"First thing you did was buy an $800,000 mansion and move to Washington D.C.," Young told Stutzman.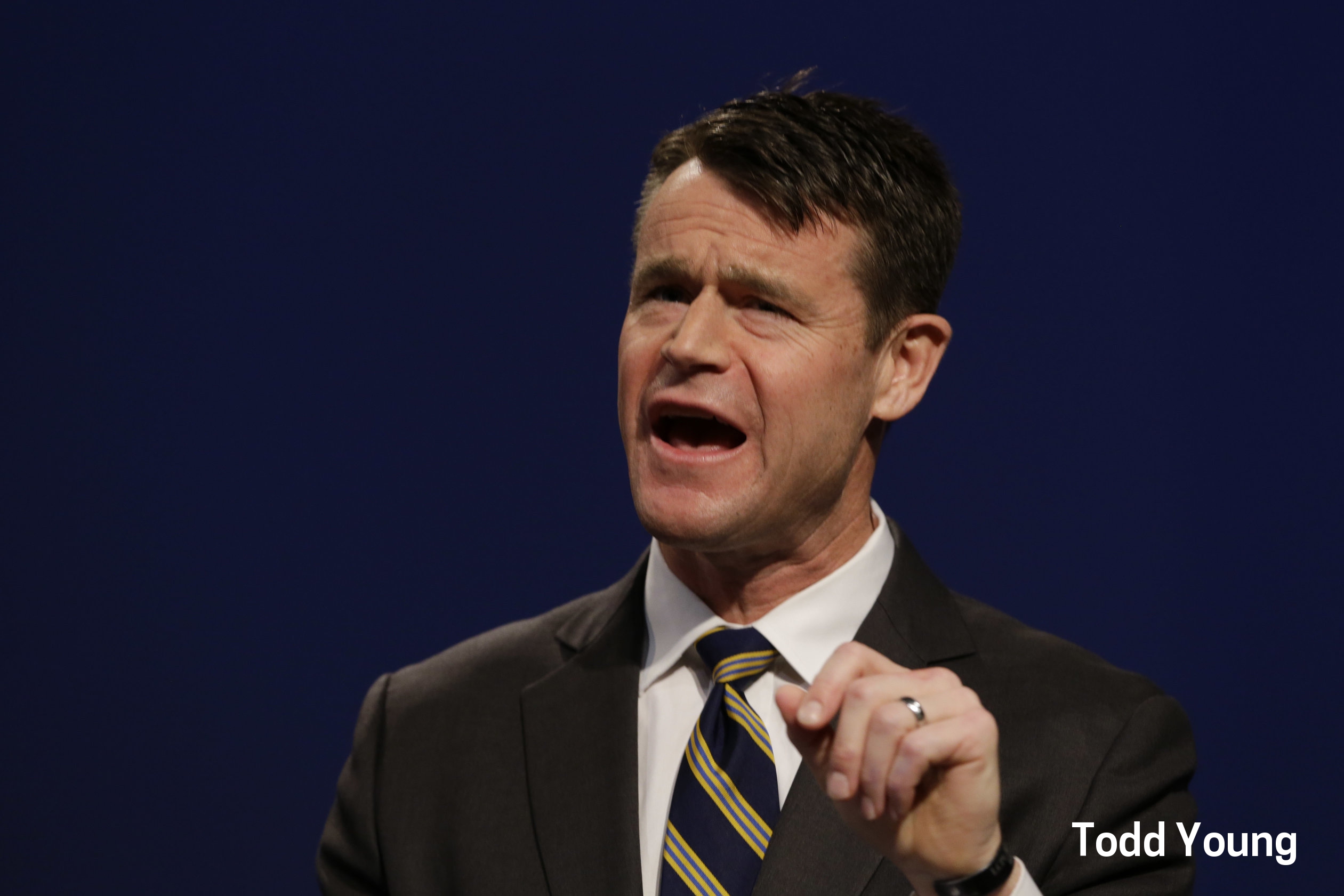 Stutzman countered that Young has held various federal government jobs and "already been tasting the Potomac fever in Washington a lot longer than I have."
During the debate, Young repeatedly cited his experience as a former Marine intelligence officer and frequently mentioned that he previously defeated Hill. Stutzman emphasized his experience as a farmer and a businessman and said Young has not been a consistent conservative. Both criticized President Barack Obama.
Stutzman and Young responded to questions on domestic issues such as health care policy and abortion, as well as foreign policy issues including trade, Syria and the fight against the Islamic State group.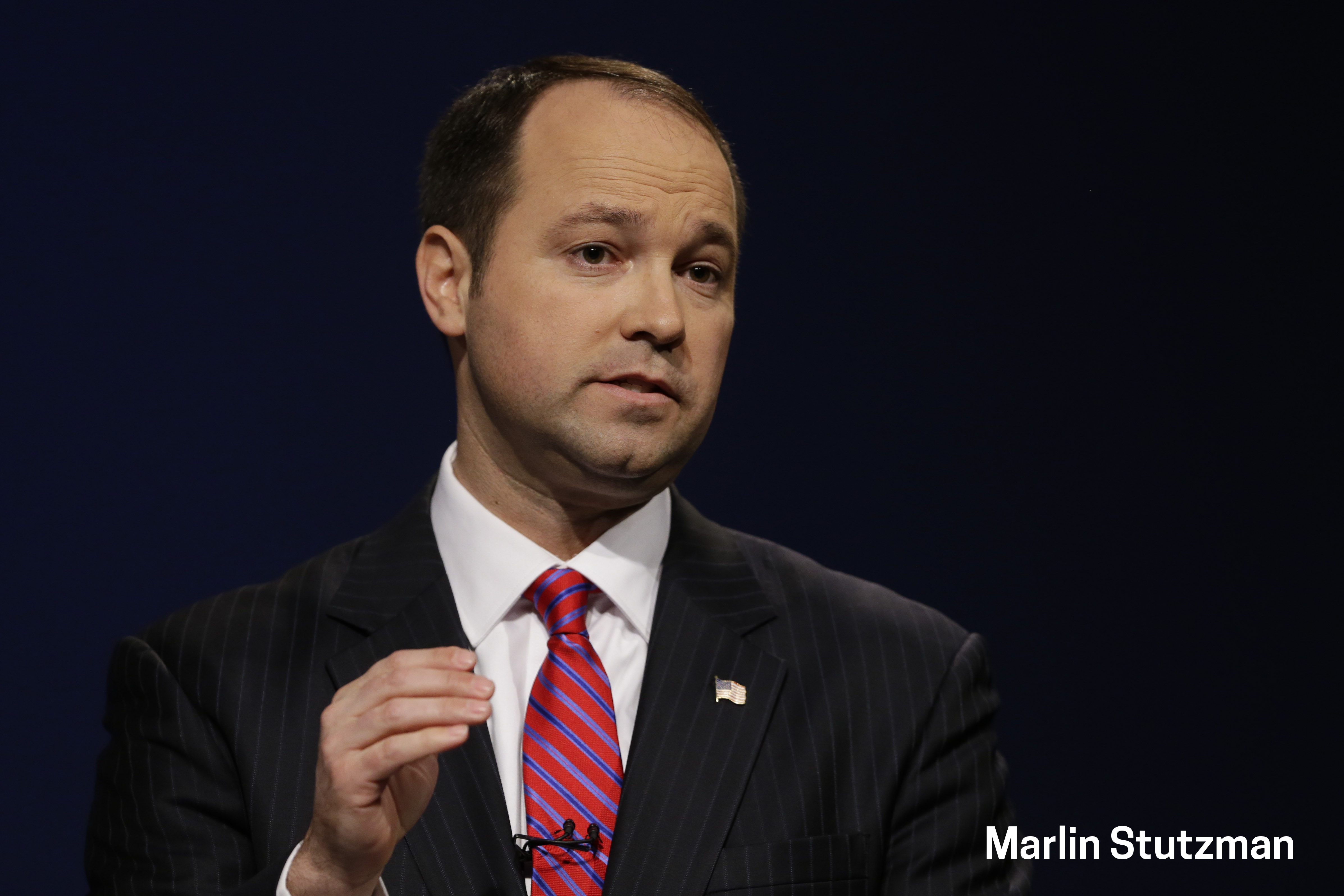 Stutzman said he supported building a wall along the southern border with Mexico as GOP presidential candidate Donald Trump has proposed. He cited drug trafficking and national security as reasons that "we need to build a wall, we need to put up a fence."
Young did not directly answer the question when asked if he would support building a wall.
Both men claim to be the true conservative in a primary race that has grown combative even though both have similar positions on many issues.
Both Republicans are spending heavily on television advertising around the state—and so are outside groups backing their candidates.
The U.S. Chamber of Commerce has been spending $1 million for television ads supporting Young. The conservative group Club for Growth is supporting Stutzman, who is a member of the Freedom Caucus of conservative Republican House members whose aversion to compromise led to former House Speaker John Boehner resigning last year.
Democrats hope Stutzman emerges from the primary to take on Hill. They view Stutzman as extremely conservative with an outspoken nature that could turn off general election voters much like GOP Senate candidate Richard Mourdock, who drew criticism for comments about abortion and rape and lost the 2012 Senate race to Democrat Joe Donnelly.
The televised debate was sponsored by the nonpartisan Indiana Debate Commission.
Please enable JavaScript to view this content.