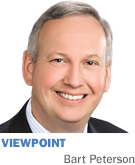 The case for broad, state funding for preschool has always been strong. Three recent developments make it overwhelming.
First, Marion County families are demanding high-quality preschool for their children. For the second straight year, there have been more than twice as many applications for financial support as there are available scholarships.
Parents care about their children's well-being, and they will go the extra mile to help them get a better education. About 1,600 kids from families with incomes below 185 percent of the poverty line will receive preschool scholarships this year through Indianapolis' program. Nearly 2,700 kids who applied will not.
As parental engagement is critical to kids' success in school, the effort by parents to fill out special applications for scholarships demonstrates that the ingredients for success for all our children are in place—if more funding were made available.
Second, the economic benefits of preschool are clearer than ever.
IBJ published a story on March 7 highlighting how the Indianapolis area is lagging the rest of the country when it comes to boosting the incomes of children (when they become adults) higher than their parents' incomes. The research behind that story, released last year by economists at Harvard and Stanford, shows that one of the biggest positive factors to improve income mobility is a high-quality education.
The benefit is cumulative. Better schools at any age make a difference. But better education at the earliest age makes the biggest impact on later earnings potential.
Finally, a study published in February found that gaps in science and math achievement can be traced to gaps in general knowledge that exist before kids even start kindergarten.
That research, conducted by scholars at Pennsylvania State University and the University of California—Irvine, found that kids of all races and all income levels grow their science and math achievement at the same rates through elementary and middle school. But since minority and low-income children, on average, start behind their peers in science and math knowledge, a high percentage never catch up.
With science and math skills being critical to so many of today's high-paying jobs, Indiana cannot afford to leave behind the full half of its students that qualify as low-income.
The state is spending $10 million annually for five preschool scholarship pilots. In Indianapolis, that state pilot funding adds $2.2 million annually to the five-year, $40 million program funded by the city and private donors.
Eli Lilly and Co. believes so strongly in the Indianapolis preschool program, our foundation has donated $2 million to help.
The Indianapolis program, administered by the United Way of Central Indiana, has incorporated two important safeguards that help maximize the benefits of public funding.
It steers money both to scholarships and to help expand the capacity of high-quality preschool providers. That's because sending youngsters to low-quality preschool won't produce the results we're looking for.
Also, the Indianapolis program has made scholarships available to both 3- and 4-year-olds. That's important because the most successful preschool initiatives—the ones that have been shown to meaningfully increase a child's chances for success as an adult—were intensive programs that engaged students (and sometimes their parents) for more than one school year.
United Way will call for statewide early childhood education funding when the Indiana General Assembly begins writing the next state budget in January 2017.
I hope lawmakers realize the time for broad state funding for preschool has come. Parents want it. The economy needs it. Our children deserve it. The Legislature should fund it.•
__________
Peterson was mayor of Indianapolis from 2000 to 2007 and is now senior vice president of corporate affairs at Eli Lilly and Co.
 
Please enable JavaScript to view this content.