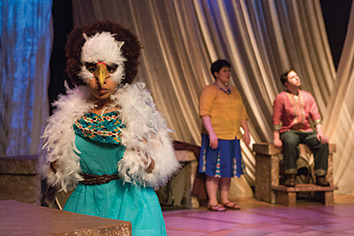 Back in the late 1960s, Paul Sills—one of the founders of Chicago's famed Second City—pioneered what he called Story Theatre.
Finding magic in theater's ability to transform people and settings in a moment without much care for the psycho-socio aspects of its characters or for visual realism, Story Theatre embraced the artifice of theater to get at something elemental, something simultaneously simple and rich.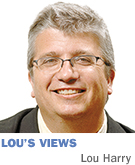 I'm not sure how much playwrights Tom Horan and Bryan Fonseca had Sills' Story Theatre in mind when they created "Leyenda" (at the Phoenix Theatre through May 1), but its ideas seem to permeate the production in sometimes wonderful ways.
Built from interviews with the Indianapolis Latino community about its folk tales, "Leyenda" includes some marvelous visuals—including an opening in which a piece of cloth seems to create its own form in midair thanks to a ring of fans. There's also a pair of giants biggie-sized by shadow play menacing a mere mortal, and a parade of animals that you'll have to see for yourself.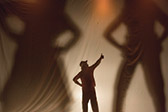 There's magic, too, in some of the acting choices, particularly when it comes to Paeton Chavis, who gives a fully committed performance … as a chicken. She also makes a gentle and totally believable transition in another tale from young girl to mother to senior. Not every performer finds such richness, alas, nor does every sequence feel fully developed. Sometimes I felt like I was witnessing an early, promising draft rather than a fully realized work.
The show's framework—a clever woman tells delayed-gratification stories to keep a king in check—will be familiar to anyone who knows the Scheherazade story (from Arabic roots). The device allows seven tales to unfold, with their first halves all presented before the climaxes are shared. By structuring it this way, "Leyenda" smartly avoids the modular nature of many such anthology plays. Just don't expect psychological insight, irony or tongue-in-cheek humor. The presentation wouldn't be out of place at a quality children's museum.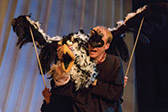 Sills once said his Story Theater was for both kids and adults. "So you can take your kids or your parents." That's true for "Leyenda" as well. Sills' theater attracted folks who had never been to the theater before. And I hope that's the case for "Leyenda."
Note: As it does on occasion, the Phoenix will present the final weekend of "Leyenda" performances in Spanish.•
__________
This column appears weekly. Send information on upcoming arts and entertainment events to lharry@ibj.com
Please enable JavaScript to view this content.