To some, the current ramen craze is baffling.

"It's basically just chicken noodle soup with a soft-boiled egg and a slab of pork in it, right?" asked a friend. "It's good and filling and quite tasty, but then so are mashed potatoes. Would you ever fall for a mashed potato craze?"

Well, to be perfectly honest, yes. I'm more than ready for a mashed potato craze.

But that's beside the point. The point is that the recent crop of ramen-focused restaurants is effectively shaking the image locked in by those bottom-supermarket-shelf bricks of noodles devoured by the budget-conscious.

The latest is Kizuki Ramen & Izakaya (2450 E. 146th St., Carmel, 218-3553), an appealing, comfortable chain imported from Japan for its first Indiana location.

Izakaya, by the way, isn't a menu offering—it's basically a Japanese pub. So much for your word of the day.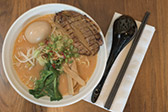 More than 10 ramen variations are available on any given day at Kizuki Ramen & Izakaya in Carmel, including the Spicy Ramen, pictured.
(IBJ Photo/ Eric Learned)
I'll get to the ramen in a moment. First, though, we hit the appetizer list. Originally, we were told there were no more Pork Buns ($4.50) available. But then one suddenly appeared at the table. When we asked the waitress what was up, she said they "found" one in the kitchen. The doughy bun seemed a bit undercooked, but the green onions and cucumber offered a crisp flavor combo.

Before I suggest you try the Chicken Karaage ($6.50), it might be helpful to remind white-meat-centric America that, in most of the world, dark meat is more celebrated. Here, the smoky meat and the spiced breading made the fried appetizer a winner. In the Takoyaki ($5.50), however, the promised octopus seemed like a tiny prize hidden deep in the gooey ball. Not that I was craving massive octopus chunks but, still, a bit disappointing and the dish we didn't finish.

On to the ramen, specifically the Spicy Ramen ($12). Although our waitress never asked how spicy I wanted it, what arrived was on the mild side with the chilis barely noticeable. It came with a good-size slab of pork, noodles both chewy and crunchy, and a rich broth that wasn't too salty (a low-sodium option is available for those more cautious). Vegetable Ramen, Yuzo Shio Ramen (with Japanese citrus), and an extra-rich Garlic Tonkotsu Shoyu Ramen are among the 10-plus alternatives.

Exploring other parts of the menu, we found the Ten Don ($11) to be fine but suffering from a poor ratio of rice-to-tempura vegetables and shrimp. Not that they were stingy on the tempura items, but the dressing got lost in an overabundance of rice. The individual tempura items were sliced to give attention to the content rather than the breading, which is a plus, but the breading itself was just OK. I'd return, though, for the Pork Chashu Don ($11), a big udon bowl of rice plus pork belly slices and chunks of pork, all delightfully marinated.

Service was as casual as a country diner and we weren't rushed out even though we were still dining beyond 2:30, when Kizuki Ramen & Izakaya takes a break before reopening at 5 for dinner on Tuesday through Thursday•