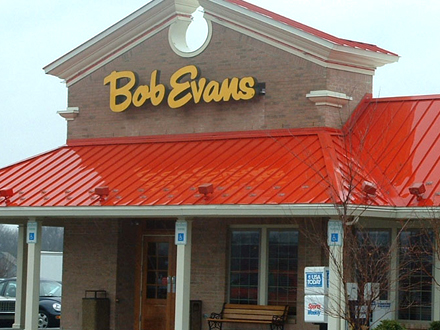 Restaurant chain Bob Evans Farms is closing 27 underperforming locations—including three in Indiana—and laying off 1,100 workers in an attempt to boost profits, it announced Monday.
The closures includes the Bob Evans restaurants at 6330 W. 71st St. in Indianapolis; at 91 Byrd Way in Greenwood; and at 111 B.S. Memorial Drive in New Castle.
Of the 27 restaurants, 21 were company-owned and closed over the weekend. The remaining six are leased and expected to close in fiscal 2017. The three Indiana restaurants are company-owned.
The company says it expects to get $20 million for the owned properties, translating to a $1 million gain in annual operating income. The New Albany, Ohio-company estimates expenses near $8 million related to the closures, most of which it expects to be non-cash charges. It expects to offer laid-off workers jobs in nearby restaurants when possible.
The company said it will update the estimated expenses related to the sale when it reports fourth-quarter results in June.
Bob Evans Farms Inc. operates more than 500 Bob Evans restaurants in 18 states across the Midwest, Mid-Atlantic and Southeast U.S. regions.
Shares in Bob Evans fell less than 1 percent in midday trading Monday, but are up more than 20 percent in 2016 and more than 3 percent during the past year.
Please enable JavaScript to view this content.