Butler University has renamed its college of business after receiving a $25 million commitment from longtime Indianapolis business executive Andre Lacy and his wife, Julia Lacy, the school announced Tuesday morning.
The school will now be called Andre B. Lacy School of Business, in recognition of the largest donation Butler has ever received from an individual or family.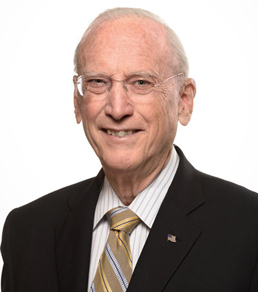 Lacy said he sees his new role at Butler as an opportunity to pass down what he has learned in business. (Image courtesy LDI Ltd.)
"The Butler community is deeply grateful to Andre and Julia Lacy for this transformational investment," Butler President James Danko said in a written statement. "This partnership brings together recognized champions of business and education, and will further extend Butler's national reputation as an innovative, world-class institution."
Lacy, 75, will serve as senior adviser to the school.
"Butler has long been an excellent school and an anchor to the Indianapolis and central Indiana community," Lacy said in written comments. "But in the last five years, under President Danko's leadership, I have seen Butler grow into a national player, especially when it comes to the university's focus on innovation, experiential learning, and outcomes."
Lacy has been chairman of the board of Indianapolis-based LDI Ltd. LLC—the city's largest private company—since 1992. He was CEO of the company formerly known as Lacy Diversified Industries from 1983 to 2006.
LDI was founded as U.S. Corrugated-Fibre Box Co. in 1912 by Lacy's grandfather. The Lacy family sold U.S. Corrugated for an undisclosed sum in 1984 and created a buyout company that typically retains firms in its portfolio for 15 years or more.
Lacy began his career in 1961 as an analyst at U.S. Corrugated. He later was executive vice president and chief operating officer of U.S. Corrugated and executive vice president and chief operating officer of Lacy Diversified.
He is on the board of Hulman & Co., which owns Indianapolis Motor Speedway, and is chairman of the Indiana State Fair Commission.
Butler's school of business last week was ranked  No. 1 in the nation for internships and 68th overall nationally by Bloomberg BusinessWeek. The school has about 900 undergraduate and 200 graduate students. Its 2015 graduating class achieved a 99 percent placement rate.
Lacy has worked with Butler for more than a decade, serving on the Butler Business Consulting Group Advisory Panel and endowing a student scholarship in the school of business. He said he sees his new role at Butler as an opportunity to pass down what he's learned about business.
"We hope this investment further establishes the Lacy School of Business—and Butler University overall—as the premier destination for students, faculty, employers, and community partners in central Indiana and across the country," Lacy said.
 
Please enable JavaScript to view this content.