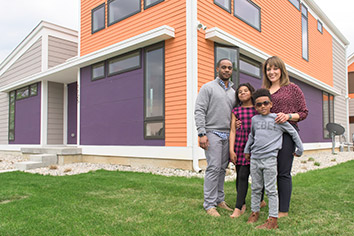 A redevelopment of the prized Indianapolis Public Schools property along College and Massachusetts avenues would add more housing and retail options along the bustling corridor, extending activity farther east.
But neighborhoods just east of the IPS property, virtually cut off for decades from downtown by the interstates, also are expected to reap the benefits, as development continues to creep their way.
Chief among the prize winners are the Cottage Home and Windsor Park neighborhoods. They straddle East 10th Street to the south and north and will be directly linked to the redevelopment of the former Coca-Cola plant site by the Cultural Trail extension that connects with the Monon Trail.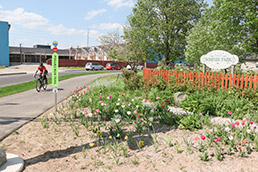 On the north side of 10th Street at Brookside Avenue is the Windsor Park neighborhood, which includes the Circle City Industrial Complex. (IBJ photo/Lesley Weidenbener)
Suddenly, the historically working-class areas, where some commercial and residential development already is under way, are becoming trendy themselves.
"We've got so much going on so close to us," said Ursula David, who's building upscale prefabricated houses in Cottage Home. "The Circle City Industrial Complex is certainly drawing people, and we're in walking distance of Massachusetts Avenue."
David has completed three of her homes, all occupied, and ultimately hopes to build up to 10 along East 10th and Stillwell streets. At 1,800 square feet, they've sold for as much as $550,000, drawing more professionals to the area.
Just west, and even closer to Mass Ave, Stenz Corp. is building 14 homes as part of a project that could include a two-story mixed-use development along East 10th Street.
The two-story, 1,600-square-foot residences starting in the high $200,000s are being built along Dorman and Stillwell streets south of East 10th. Stenz is calling its project Dorman Sq.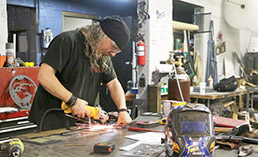 Fabricator Daniel Jones of Cutting Edge Craftsman LLC works in the company's CCIC studio. (IBJ photo/Lesley Weidenbener)
And north of East 10th, in Windsor Park, redevelopment of the massive Circle City Industrial Complex is well under way.
Owner Larry Jones of Teagan Development is converting part of the 539,000-square-foot complex into "maker space"—a collaborative area where artisans access industrial tools and programming.
In addition, the area has become hip enough to attract a brewery and micro-distillery.
Centerpoint Brewing is taking 17,500 square feet in the industrial complex to open a tasting room and production brewery, and 8th Day Distillery plans to occupy about 6,000 square feet.
"We think what happens there with Dorman Sq. and the work that's being done at the Circle City Industrial Complex makes that gateway pretty vibrant going forward," said John Franklin Hay, executive director of Near East Area Renewal.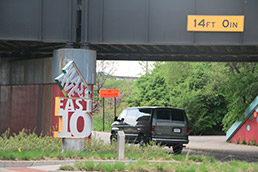 An interstate separates the Mass Ave retail area from neighborhoods to the east. (IBJ photo/Lesley Weidenbener)
The not-for-profit community development corporation, which serves 22 neighborhoods, has so much confidence in the area that it's spearheading a single-family residential project. What's different about this one is that it will be market-rate housing meant to be owner-occupied rather than affordable rentals, Hay said.
NEAR bought five lots on the north side of East 10th Street near North Oriental Street, less than two blocks east of the industrial complex. The group has received city approval to rezone them and is in the process of selling two lots to a private developer.
The increased housing activity in the neighborhoods, bolstered by the new construction from David and Stenz, is starting to push home prices up.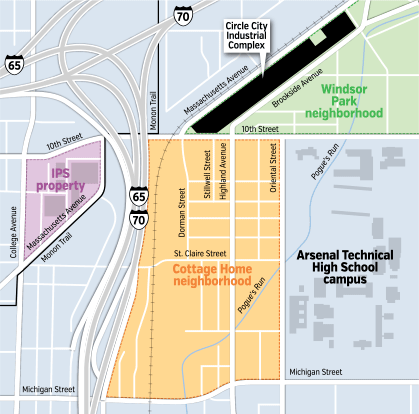 The average price per square foot for houses selling in Cottage Home has skyrocketed from $106.45 to $176.48 within the past year, on the strength of the new construction, according to statistics provided by downtown real estate agent Joe Everhart.
One home in Stenz's Dorman Sq. project sold in February for $415,000, according to Everhart's stats.
"This is just another great example of properties that have that proximity to the city's core," he said. "It's finally heating up in this neighborhood."
The rising home prices also are attracting more professionals—people like Sherron Rogers and her physician husband, Tyrone.
The couple moved in to one of David's prefab homes about a year ago, along with their two children, ages 10 and 6. They had previously lived in the King Park area and in Washington Township before that. But they connected more with Cottage Home.
"I don't think you can get much closer to downtown and still have a neighborhood feel," said Sherron Rogers, 36, an associate vice president at Eskenazi Health.
Known for its large number of cottage-style homes built with strong Victorian influences from 1870 to 1900, Cottage Home suffered from decay in the 1960s and 1970s, as families fled for the safety of the suburbs.
The demolition of dozens of homes in the 1950s to clear the way for construction of interstates 65 and 70 did the neighborhood no favors. Nor did its presence in the Pogue's Run floodplain. The requirements to own flood insurance have been lifted, helping to make the area more attractive.
Cottage Home has managed to stem the loss of historic buildings thanks in large part to the establishment of the Cottage Home Neighborhood Association in 1984, whose efforts halted the razing of residential properties.
The Ruskaup-Ratcliffe house and store on Dorman south of East St. Clair Street are the most architecturally significant buildings in the neighborhood, helping part of Cottage Home land on the National Register of Historic Places in 1990.
Another Cottage Home resident, Crystal Rehder, moved to the neighborhood in 2009 as a renter and bought a home in January 2015 that she now shares with her fiance.
Drawn to its proximity to downtown, where she works as the team leader of ecology and waterway permitting at the Indiana Department of Transportation, Rehder said her aim is to either walk or ride her bike anywhere she wants to go.
She has become so ingrained in the neighborhood that she now serves as president of the association. Rehder said she snagged one of the last "affordable" homes in the neighborhood.
Now the association fears something members couldn't have foreseen a decade ago—escalating home prices and their impact on the neighborhood.
"We want it to be diverse," Rehder said. "We need places for middle-income families, too. That's pretty important to us. We want all types of people around here."•
Please enable JavaScript to view this content.