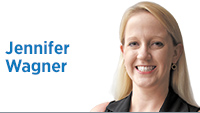 In March 2013, I penned a column for this publication about the rise of the new swing voter: 30-something moms who live in the suburbs and can be persuaded to vote based on common sense over party affiliation.
These are the voters who elected U.S. Sen. Joe Donnelly once they got to know Indiana Treasurer Richard Mourdock, he of the infamous pregnancy-from-rape is "something God intended" debate gaffe.
Four years ago, Hoosiers sent Donnelly to the Senate but elected Gov. Mike Pence over former Indiana House Speaker John Gregg,
Donnelly earned almost 21,000 more votes than Gregg in the counties around Indianapolis and almost 18,000 more votes than Gregg in Marion County. He beat Mourdock by a little less than 150,000 votes; Pence beat Gregg by 75,000.
Fast forward to 2016.
A number of strong Democratic candidates took a pass on the gubernatorial race, so that campaign is set for a brutal rematch. Despite the fact that both gentlemen have similar records on many issues, Pence has proven that divisive social issues are his catnip.
If Gregg can define himself as a worthy alternative, someone who can actually govern, those moderate moms from 2012 might rally to his side.
But that race, along with the campaign to replace retiring U.S. Sen. Dan Coats, will almost certainly be overshadowed by an epic presidential battle between former Secretary of State Hillary Clinton and New York billionaire Donald Trump.
On the Democratic side, the political "revolution" promised by U.S. Sen. Bernie Sanders, a self-described socialist, never quite materialized. He awakened a sleeping electorate of mostly young, white voters in many states, but it wasn't enough to earn him the nomination.
In November, those angry millennials will be a political wild card. It's highly possible they don't show up at all. It's possible they become convinced over the summer to vote for Clinton.
On the other hand, Trump's supporters, also white and furious, but for very different reasons, are likely to get their man.
More than six months ago, I said on a local television station that Trump would be the nominee. My fellow commentators chuckled.
A lot of folks in the establishment missed the latent indignation percolating in both parties, especially on the GOP side.
Trump has since proven that reality television is more powerful than reality.
He is woefully unpopular with pretty much everyone outside his base, with national polls showing his general election favorability hovering around 30 percent.
Clinton, the subject of decades of harsh and often sexist scrutiny by the media and her detractors, doesn't have great numbers, either, but I suspect voters ultimately won't want to send President Trump to the White House.
So what of those 2012 swing voters who put Joe Donnelly in the U.S. Senate? Will soccer moms show up? Will they once again be a coalition to be reckoned with?
Yes.
Both gubernatorial candidates have been spending time trying to woo suburban women, and if Indiana is in presidential play this fall, I can't imagine you won't see a groundswell of pro-Clinton support both in the urban and suburban areas across Indiana.
It's been four years, but I predict the swing voter of 2016 will once again look a lot like me.•
__________
Wagner is a lifelong Indianapolis resident and founding principal of Mass Ave Public Relations, a local public relations and publicity firm. Send comments on this column to ibjedit@ibj.com.
 
Please enable JavaScript to view this content.