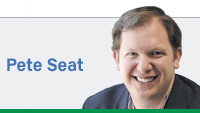 The first time I saw President George W. Bush in person I cried.
Pathetic, I know. But as the only son of two immigrant parents from a relatively small town in northwestern Indiana, I never thought my life's journey would bring a president within eyesight. And, yet, there he was, the 43rd president of the United States, close enough that I could snap a decent picture with my disposable camera.
The crying happened again when I walked out of the gate Josh Lyman-style for the final time in January 2009 after 3-1/2 years of White House service. In that moment, joining the 99.999 percent of Americans without a White House badge felt permanent. I never expected anyone would willingly open the gate for me again.
After that repeat display of emotional softness, I kept the waterworks in check for a little over four years. That was until I jetted down to Dallas for the dedication of the George W. Bush Presidential Library and Museum in April 2013. I couldn't help being overcome with the emotion of witnessing that historic occasion alongside hundreds of co-workers and friends.
A year-and-a-half later, it happened a fourth time—when I traveled back to Dallas in September 2014 and stepped foot inside the Museum's Oval Office replica for the first time. Witnessing events firsthand in the real Oval Office became commonplace as part of my White House assignment. But, just like I didn't expect to enter the White House again, I never expected to feel the rush of being in the Oval Office again. So, yeah, I cried.
All those feelings came back last month when my wife and I traveled to Dallas again, to attend a reunion of Bush-Cheney administration alumni. Everyone was there, from the president and Mrs. Laura Bush, to Vice President Dick Cheney, to cabinet members and high-profile members of the senior staff, like Karl Rove and my former boss, Dana Perino.
This time, my eyes stayed dry. But while I didn't cry, I did return home with a renewed sense of purpose and optimism. That weekend in Dallas could not have come at a more perfect time in the midst of a chaotic election season that has made me question whether our country has gone completely off the rails of sanity.
President Bush, unlike some of the candidates in the field today, stayed above the fray in his remarks at our Texas-style barbecue gathering. He spoke about the work of the Bush Institute and his belief in supporting entrepreneurship and freedom at home and around the globe. He added that we should reject the slippery slope of nativist and isolationist rhetoric and policies and set our sights on the higher calling of public service.
Looking around at the 1,000 alumni and guests in rapt attention, I knew there was hope for the future regardless of the results of the next election. We joined the cause in the first years of that new decade drawn to a leader who, as he always put it, had a charge to keep. It wasn't about scoring political points or appealing to the demons within us, but about aspiring to a better future. We could use some of that today.
Just thinking about that weekend in Dallas as I write these words has me crying. There I go again.•
__________
Seat is a former deputy press secretary to George W. Bush, the author of "The War on Millennials" and senior project manager at Hathaway Strategies.Send comments to ibjedit@ibj.com.
Please enable JavaScript to view this content.