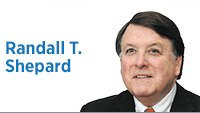 One element of a state's capacity for gaining ground in national and global marketplaces is whether its legal climate and particularly its courts help advance economic development and the jobs that come with it—or make it more difficult.
Indiana has historically ranked well on this score and we are about to get better.
There are actually ways to quantify a state's legal climate and the effectiveness of its courts. Every year, an arm of the U.S. Chamber of Commerce evaluates various aspects of the 50 state court systems. Does the state have capable judges? Are the cases moved expeditiously? Are its juries usually fair?
The latest state rankings, issued last September, say Indiana ranked 18th, a little lower than we have traditionally stood but well ahead of our bordering states (and, of course, way ahead of places like California, ranked 47th).
A leading focus of the annual report has been to evaluate how a state handles tort litigation, but there's another kind of lawsuit of interest to the business community that is often overlooked: How well does a state's court system handle litigation arising from a dispute between business organizations? An example might be litigation between contractors and subcontractors. Or suits between insured corporations and their insurers. Or cases involving suppliers and retailers.
Many such disputes are resolved without trial, inasmuch as the contending parties mostly would like to resolve the case so they can get about the business of doing more business—sometimes doing more business with each other. Getting to agreement can depend on progress in the litigation, as parties tighten their focus on the facts and evaluate their positions.
Their ability to move through the court system is sometimes hampered by the fact that they often are competing for time on a docket with a variety of other lawsuits of a totally different character, like family law, personal injury claims or residential mortgage foreclosures. The techniques a judge might use to conserve court time and lawyer time in these varying fields can be quite different. American courts try to gain efficiencies through specially managed dockets, like family law.
With its eye on the state's economic future, the Indiana Supreme Court has launched the Indiana Commercial Court Pilot Project, in part to "enhance economic development in Indiana by furthering the efficient resolution of commercial law disputes." It is the product of more than two years of planning under the auspices of the Indiana Judicial Center.
The project will launch this summer. Judges in six of the state's metropolitan areas, including Indianapolis, will begin supervising separate calendars for management of commercial litigation. The court's order establishing this project contemplates an arsenal of techniques designed for this purpose: early case management conferences to streamline the issues, plans to expedite and focus the discovery of evidence, availability of hearings on short notice, use of commercial court masters, and electronic filing systems to save time and money.
The judges will also have the assistance of law clerks for legal research and case organization. The six judges will themselves benefit from additional training in managing commercial disputes, collaborating with a national organization of judges who do similar work.
Advancing Indiana's economic well-being takes action on every possible front. The state's courts are joining in that cause.•
__________
Shepard, formerly Indiana chief justice, now serves as senior judge and teaches law. Send comments on this column to ibjedit@ibj.com.

Please enable JavaScript to view this content.