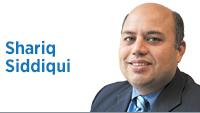 As I watched "Batman v Superman," I was struck how we were missing an important conversation about the immigration reform debate that has been raised in the GOP presidential race.
Our current immigration laws would permanently prohibit Superman from receiving legal immigration status. This would remain true even if he married Lois Lane, a U.S. citizen. Confused? Let me explain.
Superman came to the United States without inspection. This means his arrival was not preceded by receiving a visa. He simply was brought to our country without documentation. The fact that he came as a child is irrelevant under current law. He was then taken in by a U.S. family and raised as their son. Upon realizing his powers, he left the United States on a number of occasions (however brief is irrelevant).
Leaving once triggers a temporary bar. Leaving multiple times triggers a permanent bar, precluding his ever receiving legal status. It is irrelevant whether he has served our national security or has made positive contributions to our country. It is irrelevant that his permanent removal from our country would be devastating to Lois Lane and would force her to choose between someone she loves and the home she has always known.
As incredible as this sounds, such is the state of our current law. Which is why lawmakers on both sides of the aisle have asked for immigration reform.
Many immigrant children face a similar fate. They are brought to our country by family members as children without inspection. Lack of knowledge about the law causes inadvertent triggering of temporary and then permanent bars. These immigrant children grow up, many without the knowledge of their undocumented status until they are older. They are educated in our schools, fall in (and out of) love, and some even decide to get married.
It is when they meet an immigration lawyer that they realize their terrible predicament and the terrible choice that one day Lois and Clark Kent will face—their marriage will also be shrouded with the fear that, one day, one of them might be deported.
Having met many of these amazing individuals during my time as an attorney, I know that their service to our community, state and nation has been important. However, our nation's debate on immigration reform has taken on a nasty and racial overtone.
Presidential candidates like Donald Trump and Sen. Ted Cruz hurt our nation by denying that undocumented immigrants make amazing contributions to our country. Their lack of documentation is not about their lack of contribution but is about our lawmakers' failure to repair a broken immigration system.
We know that, while undocumented immigrants' contributions to our nation might not seem as great as Superman's, they certainly are more real. One wonders if we would have the same debate if these immigrants looked like Superman.•
__________
Siddiqui is an attorney, has a doctorate from the Lilly Family School of Philanthropy at IU and leads the Association for Research on Nonprofit Organizations and Voluntary Action. Send comments on this column to ibjedit@ibj.com.

Please enable JavaScript to view this content.