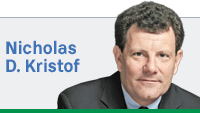 What if we talked about gun violence, and discussed only bullet size?
To me, that seems akin to the presidential campaign discussion of women's health. Somehow, in nine Democratic debates, not a single question was asked about women's health, and when the issue came up elsewhere it was often in the narrowest form, about abortion: Democrats proclaim a woman's right to choose, and Republicans thunder about the sanctity of human life.
Women's health goes far beyond that. It should be a national scandal that a woman dies of cervical cancer almost once every two hours. That about 70 percent of pregnancies to young, unmarried women are unplanned. That a woman dies every eight hours from domestic violence.
In each case, we know how to address these problems. But we're not doing it urgently enough.
It might seem odd for a man to be raising the topic, but the lives of women shouldn't be a priority for women alone.
The shortcomings in women's health parallel those of men's health and children's health, and include a myopia about the importance of preventive and reproductive health. It's a tragedy that nearly a dozen women die a day of cervical cancer in the United States, many of them young women in the prime of life. This is utterly unnecessary, for cervical cancer can be detected early with screenings and then defeated, but many women just don't get screenings.
Likewise, the HPV vaccine prevents most cases of cervical cancer, but even now, 40 percent of adolescent girls don't get the vaccination, along with 58 percent of boys (the vaccine protects boys from other, rarer cancers and can benefit their partners).
In some ways, we have made progress: Kudos to President Barack Obama for making HPV vaccinations and cervical cancer screenings typically free.
But we're going backward when states close Planned Parenthood clinics that perform the screenings, without even ensuring that there are alternatives in place.
A second under-addressed area of women's health is family planning. A slight majority of American women will have an unplanned pregnancy at some point in their lives, and surveys show that American kids have sex about as often as European kids but have babies about three times as often as Spanish kids and eight times as often as Swiss kids. That's partly because of meager U.S. sex education, and partly because of a lack of access to contraception, particularly LARCs—long-acting reversible contraceptives, like implants and IUDs.
The Title X national family planning program provides LARCs, cancer screenings and much more, and an analysis by the Guttmacher Institute found that Title X-supported clinics prevent three women a day from dying of cervical cancer—and also prevent 1 million unplanned pregnancies a year and 345,000 abortions. That makes Title X one of the most successful anti-abortion programs, yet Republicans regularly try to defund it.
"Women's health" goes beyond the pelvis, so the conversation should include domestic violence. A woman is assaulted in the United States every nine seconds, and 20,000 calls a day are placed to domestic violence hotlines.
In each of these areas, we have solutions. Screenings and HPV vaccinations prevent deaths from cervical cancer. Ready access to LARCs hugely reduces unplanned pregnancies and abortions. Cracking down on domestic-violence offenders, mandating treatment and taking guns from those under protection orders—all these help. But we're not doing enough.
So let's broaden the conversation about women's health this political season, for the benefit of women and the men who love them.•
__________
Kristof is a columnist for the New York Times.Send comments to ibjedit@ibj.com.
Please enable JavaScript to view this content.