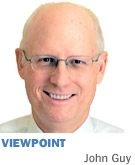 My friend is a dolt. Against all odds and common practice, he managed to be fired as a volunteer director of a not-for-profit. He deserved it.
English does not have a word for him. He is not "a contemptible or foolish person, stupid, or blockhead," as suggested in a dictionary definition of "jerk." He prefers this friendly definition: "a stubborn hard worker, a born contrarian who can pull more than his weight if he is subtly encouraged."
My friend said he is lucky to be alive because, according to staff, he spoke 15 minutes straight at a board meeting. People attending said he did not know what he was talking about, that he did not know the history of the organization, and that he was regurgitating issues decided long before. One said he did not give proper respect for "thoughtful" predecessors. Had he been a listener instead, forced to endure 15 minutes of someone else's tirade, he would have shot the speaker because people should be required by law and custom to present their thoughts in less than 3 minutes and 32 seconds.
Ten percent of any group contains persons who are unattractive, useless or disruptive, perhaps criminal. The worst produce negative consequences. Some cheat and steal. Yet dolts, often described as dissenters, have potential value. For example, what would have happened had an obstreperous dolt argued vehemently and effectively against:
• Our war in South Vietnam
• Our invasion of Iraq
• Production of the disastrous Edsel automobile
• Passage of the Religious Freedom Restoration Act in Indiana
• The purchase of Green Tree Financial by Conseco
• Bernie Madoff
Or, what if a dolt had not
• Disclosed massive monitoring of American citizens by the National Security Agency
• Released The Pentagon Papers
Tolerating dissent is tough, but most organizations do it. Normal differences in punctuality, humor, habits of speech, political and religious feelings, and differing personal experiences ensure that individual members of a board are not always in tune with one another.
Everyone seems to have at least one problem with a neighbor or family member. If every disagreement, perceived insult or challenging personal habit ended in a disrupted relationship, societal chaos would increase exponentially. Fortunately, most people have learned to get along.
I was part of the board of a cultural group. There, I frequently heard complaints about other directors, who, in the eyes of some, did not attend enough board meetings, did not dedicate time to the organization, and, perhaps worst of all, did not contribute financially in amounts deemed appropriate by the critics.
Despite the criticism, leadership did not "fire" a single one because the magnitude of pain of dismissal exceeds the discomfort of toleration. Anyone dismissed immediately ceases both moral and practical support. In some cases, I hope only a few, a dismissed person works against the organization by telling friends about its poor leadership, ineffective management and bad decisions.
"You never know" was our principle. "You never know" when a person might ante up, either with a large donation during life or a significant bequest at death, or when he might present a valuable idea.
What if more "tutoring" of the dolt would have put his energy to positive work? Instead of severing a relationship, might the organization have benefited from his continued involvement? We'll never know.•
__________
John Guy is an Indianapolis wealth manager and author of "Middle Man, a Broker's Tale."
Please enable JavaScript to view this content.