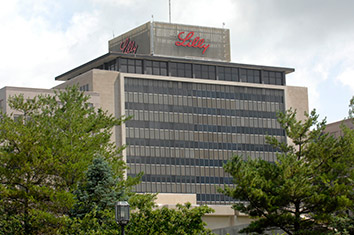 A federal judge has awarded more than $500,000 to a former manager at Indianapolis-based Eli Lilly and Co. who quit for health reasons and was later dropped from the company's extended disability plan.
Cathleen Kennedy quit her job in 2008 as Lilly's executive director of human resources, saying she was disabled as a result of major depression and severe chronic fibromyalgia—a condition marked by chronic pain, fatigue and cognitive impairment.
She received disability payments under Lilly's employee benefits plan for about three years. Then in 2012, a new plan administrator reviewed her case and referred her to an Ohio rheumatologist for an exam.
The rheumatologist examined her and concluded that the American College of Rheumatology "does not consider fibromyalgia to be disabling on a long-term basis." He wrote that Kennedy had no medical restrictions and was able to return to work.
Kennedy objected, saying the outside physician's exam lasted less than five minutes, and that the American College of Rheumatology describes fibromyalgia as a "chronic" condition. She also noted that an expert consultant used by Lilly in conjunction with Cymbalta, a drug it markets for the treatment of fibromyalgia, has referred to the disease as a "disabling condition."
But the plan administrator also noted that Kennedy's own physicians had concluded she had normal range of motion, was relatively high functioning and was able to jog three miles a day.
Kennedy pointed out that her doctors also said she suffered from pervasive fatigue and had difficulty functioning at a high-paced job with a lot of stress.
Kennedy appealed to the Lilly Employee Benefits Committee. As part of the appeal, Lilly asked another rheumatologist to review her file. He also concluded she could return to work, and the benefits committee rejected her appeal.
Kennedy filed a complaint in U.S. District Court in Indianapolis against Lilly's extended disability plan in 2013, alleging it used a "bogus medical examination" to terminate her claim. He asked the judge to enforce her rights under the Employee Retirement Income Security Act of 1974, which governs the disability plan.
Lilly's lawyers argued that the Employee Benefits Committee's decision was "overwhelmingly supported by the evidence on record," and cited nine cases that it characterized as supporting its decision.
But Judge William T. Lawrence found that the plan's defense contained "nothing more than scraps" to offset the evidence presented by Kennedy and her doctors.
On May 2, he ordered the plan to reinstate Kennedy's benefits and pay her $537,843 in past benefits.
"We are disappointed in the underlying decision and we plan to move forward with an appeal," Lilly said in a written response. "We follow the highest standards in our relationships with employees at Lilly and those who claim benefits from the company."
Please enable JavaScript to view this content.