The Indiana University Art Museum in Bloomington has received a $15 million gift from Indianapolis-based philanthropists Sidney and Lois Eskenazi that will be used to help fund a $35 million renovation project, the university announced Wednesday morning.

The museum has been renamed the Sidney and Lois Eskenazi Museum of Art at Indiana University in honor of the donation—the largest gift in the museum's 75-year history.

Renovations to the 32-year-old museum building, which was designed by noted architect I.M. Pei, are expected to be completed by 2020. The university will provide the additional $20 million to fund the project.

Design work on the renovation project will be handled by Susan T. Rodriguez of Ennead Architects in New York and Indianapolis-based Browning Day Mullins Dierdorf.

IU said details about the renovation will be released later this year.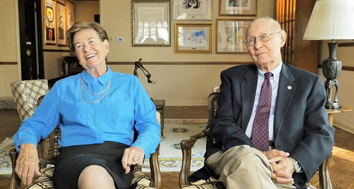 Lois and Sidney Eskenazi are donating an art collection of nearly 100 works, in addition to $15 million to help renovate Indiana University's art museum. (Images courtesy Indiana University)
Sidney and Lois Eskenazi are IU graduates who met on campus in the 1950s. The couple has helped fund several notable projects in central Indiana through major gifts, including a $40 million donation in 2011 that helped pay for the Sidney & Lois Eskenazi Hospital and Eskenazi Health medical campus in Indianapolis.

In addition to their financial contribution to the art museum, the Eskenazis are donating a collection of nearly 100 works of art, composed primarily of prints by 20th century European and American masters.

The collection includes a significant group of 34 etchings, lithographs and drawings by Spanish master Joan Miro from the 1960s and 1970s, complementing the museum's existing collection of 35 Miro works from the 1930s to 1950s.

Other artists represented in the Eskenazi collection include Marc Chagall, Alexander Calder, Pablo Picasso, Sam Francis, Tom Wesselmann, Jean Dubuffet, Salvador Dali and Pierre-Auguste Renoir. The gift also includes the first works by Keith Haring and Paul Jenkins to enter the museum's collection.

"On behalf of Indiana University, I want to offer our most sincere thanks to Sidney and Lois Eskenazi for their extraordinary, generous gift, which will help with a much-needed renovation and restoration of the magnificent I.M. Pei building that houses the museum's collection, and also for the gift of their own superb art collection that they have so painstakingly and lovingly collected over many years," IU President Michael McRobbie said in written remarks.

Sidney Eskenazi, an Indianapolis native who earned undergraduate and law degrees from IU, founded real estate company Sandor Development in Indianapolis in 1963 and built it into one of the largest privately held shopping center development firms in the nation.

Lois Eskenazi earned a bachelor's degree from IU and became a medical and lab technician.

The couple are longtime donors to IU, beginning in 1970 with the formation of a scholarship fund. Their financial support for Herron School of Art and Design on the IUPUI campus in Indianapolis led to the creation of Eskenazi Hall.

The IU Art Museum began in 1941 as a small teaching collection and grew into one of the largest university art museums in the country and the second largest art museum in Indiana. Travel website TripAdvisor ranks the museum No. 5 on its list of 45 things to do in Bloomington.

Architectural Digest rated it as one of the top 15 university art museums in the country based on the architectural significance of the building and the quality of the art collection.

"This is a tremendous moment for the art museum, and we couldn't be more grateful to Sidney and Lois for this incredible leadership gift toward the renovation," said museum director David Brenneman in a written statement. "It seems only fitting that we are embarking on this exciting new chapter with the renaming and renovation as we celebrate the museum's 75th anniversary this year."

The 105,000-square-foot museum has a collection of more than 45,000 objects "representing nearly every art-producing culture throughout history." Among them are works by Claude Monet, Pablo Picasso and Jackson Pollock, as well as one of the world's most significant groupings of ancient jewelry.

"With this gift we are combining two of our greatest passions: Indiana University and art," Sidney and Lois Eskenazi said in a written statement. "We are delighted that our collection, which we have loved building and living with, will find a home at the museum. We are excited to be a part of such a transformative project for the museum and the university, and we know that the newly renovated museum will be a go-to destination on campus for students, faculty, and alumni; and for visitors from throughout Indiana."