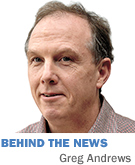 For years, Harold Garrison was among Indianapolis' top real estate developers, amassing a list of projects that included constructing Market Tower and launching redevelopments that created Lockerbie Marketplace and the Omni Severin Hotel.
So the bleakness of Garrison's finances—as outlined in financial statements filed in bankruptcy court this spring—is nothing short of astounding. Filings list estimated assets of $40 million and liabilities of $568 million.

Garrison
Garrison sought personal bankruptcy two years ago, months after two affiliates of his Indianapolis-based company, HDG Mansur, sought Chapter 11 protection from creditors. Those firms also are in financial tatters.
All of which helps explain why John Humphrey, a Taft Stettinius & Hollister partner appointed by a bankruptcy judge two years ago to investigate potential claims against Garrison and his affiliated companies, is setting his sights on the one party that appears to have vast resources—New Jersey-based Chubb Group, the provider of HDG Mansur's $5 million in directors and officers liability insurance.
Humphrey began pressing for payment under the policy last November, so far to no avail.
"That is what we want," Humphrey said of collecting on the coverage, "and that is what they don't want." He said he intends to sue if negotiations go nowhere.
In a final report filed in March, Humphrey listed millions of dollars in potential claims he could bring against Garrison, 67, and affiliated businesses—including transfers that put assets out of reach of creditors. But he said pursuing most of them would likely be a waste of time.
"Even if the examiner were successful in bringing such a case, Harold Garrison may never have any money to pay any amount owed," Humphrey wrote in the report, adding that he "would have to compete with all of Harold Garrison's other creditors to collect whatever became available."
Humphrey is not alone in looking askance at some of Garrison's business dealings. IBJ reported in 2014 that Garrison and HDG Mansur were subjects of a federal criminal investigation and a Securities and Exchange Commission probe into whether they took $5.8 million from a client. The inquiries began after a New York federal judge sided with the plaintiffs—two Cayman Islands-based funds—in a civil lawsuit over the dispute, concluding HDG Mansur appeared to commit "a massive theft on the flimsiest of pretexts."
Also crying foul are KFH Capital Investment Co. and Kuwait Finance House Real Estate Co., which accuse Garrison and HDG Mansur of misappropriating more than $11 million in connection with a failed development called Finzels Reach in Bristol, England.
A pending suit says an HDG Mansur affiliate "has taken steps demonstrably intended to hide the fact and extent of that misappropriating, by bringing into existence false invoices."
In court papers, Garrison's attorneys say he "did not make false representations," and they blame the collapse of the venture on "continuing intermeddling and/or interference by KFH representatives."
In a separate, pending suit, KFH alleges that Garrison's "bankruptcy case has been characterized by the non-disclosure of material facts and the covert transfer of estate assets." The suit notes that "Garrison made millions of dollars in the years before filing bankruptcy," including more than $20 million in 2012 alone.
"Garrison has never explained how the money he made in the two years prior to his chapter 11 filing vanished," according to the complaint.
In a response, attorneys for Garrison deny he did anything improper.
Humphrey's report found that, although Garrison was a successful real estate developer and entrepreneur for years, "starting in 2010 and coinciding with persistent weakness in the real estate markets, the revenues of the company began to decline."
Garrison had pursued global ambitions after parting ways with longtime partner Cornelius Alig in the early 2000s. He invested from Europe and East Asia to Australia—making some of those bets with a $2 billion fund he created that was compliant with Islamic Sharia law.
A bankruptcy judge last year ordered Garrison and parties suing him to start mediation in hopes of working out their differences. It's not clear from court records whether those talks have yielded progress.
It's also not clear what the status of the criminal and SEC inquiries is. An attorney for the Boston-based law firm Mintz Levin Cohn Ferris Glovsky and Popeo representing Garrison in the investigations did not respond to requests for comment.•
Please enable JavaScript to view this content.