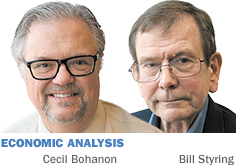 What gives? Have half of the world's auto companies suddenly become scofflaws?
Recent headlines would lead to that belief. You've probably read that Volkswagen AG is facing billions in fines for fudging emissions test data. Seems the carmaker's diesels pump out several times the nitrous oxide permitted by U.S. Environmental Protection Agency regs. Less well known is how many other car manufacturers are in similar hot water from U.S. or European air-quality cops. Like all of us, corporations must follow the laws, even ones they don't like. Punishment must be applied. That goes without saying.
However, consider an additional twist: The law violated wasn't exactly a law. It was an administratively mandated regulation. Is it possible the mandate was too strict? Just saying.
When Richard Nixon brought the EPA to life in 1970, the air was dirty to the point of unbreathabilty, and you could toss a match into Cleveland's Cuyahoga River and watch water burn. We all wanted cleaner air and water.
The EPA has since morphed and grown. As economists, we study bureaucracies. It's a pretty good rule of thumb that bureaucracies tend to grow. More money and people and an expanded mission tend to beget even more money, people and missions. That's fun. To stagnate is to atrophy, shrink and become a backwater. That's not so much fun. What ambitious up-and-comer wants to preside over a sleepy going-nowhere outfit?
This rule applies to both public and private organizations. Public-choice economics teaches that the word "public" does not automatically imbue public-sector bureaucrats with a higher sense of morality or service. They are still bureaucratic actors and subject to the usual tendencies of all bureaucracies. That is, to grow. The difference is that oversprawled private companies are disciplined by losses. Government bureaucracies just demand ever-larger appropriations.
We now have an EPA with a claim that its portfolio is the entire atmosphere. The Clean Air Act and climate-change arguments can be marshaled to justify regulation of anything beyond pristine background levels. It is doubtful the congressional drafters of the original EPA act ever contemplated nitrous oxide as a pollutant at any level. By decree, nitrous oxide from internal combustion engines cannot exceed 0.07 gram per mile.  
Surely, at some point, costs exceed benefits. Getting rid of that last micromilligram of bad stuff might not be worth it. But to raise the "Mission Accomplished" banner would stop growth. It would be … unbureaucratic.• 
__________
Bohanon is a professor of economics at Ball State University. Styring is an economist and independent researcher. Both also blog at INforefront.com. Send comments to ibjedit@ibj.com.
 
Please enable JavaScript to view this content.