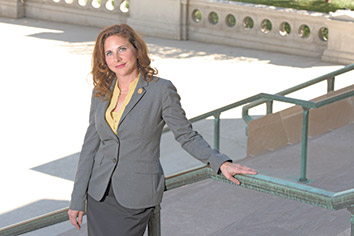 Democrat John Gregg has selected state Rep. Christina Hale as his running mate in the Indiana governor's race.
A person with direct knowledge of the campaign's decision confirmed that Gregg has picked Hale to run for lieutenant governor. The official spoke to The Associated Press on condition of anonymity because the person wasn't authorized to speak in advance of the official announcement.
Gregg's campaign said the former Indiana House speaker will introduce his lieutenant governor selection Wednesday morning at downtown's Indianapolis Artsgarden. They will then travel to events in Evansville, Sellersburg, Fort Wayne and South Bend.
Hale was first elected to the state House in 2012 and represents a district on the north side of Indianapolis. She could not be reached for comment Tuesday night.
A former Kiwanis International executive, Hale has been a vocal advocate for victims of sexual assault and domestic abuse during her time in the Legislature. She was chosen as a Woman of Influence by IBJ in 2015.
Gregg's selection of a female running mate comes as little surprise and follows a bipartisan state trend that has emerged in recent years. Pence bucked that when he appointed Lt. Gov. Eric Holcomb in March to finish the term of Lt. Gov. Sue Ellspermann, his 2012 running mate who resigned. Ellspermann has since been named president of Ivy Tech Community College.
Gregg and Republican Gov. Mike Pence are engaged in what is shaping up as a fierce rematch of the 2012 election that Pence narrowly won.
Gregg's 2012 running mate was then-state Sen. Vi Simpson of Bloomington, but his campaign declined to say whom Gregg is picking this time.
Please enable JavaScript to view this content.