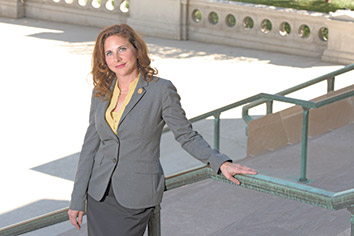 John Gregg's gubernatorial campaign gained a staunch advocate for women and girls—and perhaps attracted more moderate business support—when State Rep. Christina Hale joined his ticket Wednesday morning.
The announcement that the Indianapolis Democratic lawmaker would run as Gregg's lieutenant governor was met with loud cheers Wednesday morning in a room full of Democrats at the Indianapolis Artsgarden. He said Hale would be his "full partner" in the campaign and if elected.
"She is a hard worker who dives deep into important issues and does not shy away," Gregg said.
Gregg stressed Hale's selection could help him gain the support of moderate Republican voters. He pointed out that Hale was endorsed by both the Indiana Chamber of Commerce and the AFL-CIO when she ran for reelection in 2014.
"She's got a record of reaching across the aisle and attracting moderate support, and that's what we have to have to win," Gregg said.
Hale, 44, is in her second term at the Statehouse, and is a former chief communications officer for Kiwanis International. She also is a former newspaper reporter. She was chosen as a Woman of Influence by IBJ in 2015. She also serves on the House commerce, small business and economic development committee, as well as the insurance and utilities, energy and telecommunications committees.
The Indiana Chamber called her "one of the most active, thoughtful and determined state legislators," in its 2014 endorsement.
Hale also has a long track record of fighting for issues affecting women and girls. She said Wednesday morning that the issue of young girls being raped in the state "truly does make me want to set my hair on fire."
She's also fought against domestic abuse and human sex trafficking in Indiana. This year Gov. Mike Pence signed a bill she authored that would "help ensure victims of sexual assault on college campuses can file a confidential report of the incident." It also provided a DNA exception to the statute of limitations for rape.
And earlier this year, she made an impassioned but ultimately unsuccessful plea on the House floor for the legislature to remove the sales tax on tampons and diapers during a debate about whether lawmakers should remove the sales tax on gold bullion.
"If we can afford to give a tax break to people who collect gold bars, then probably a very human case can be made that we can give a break to the girls and women who must purchase these products every month of their lives," Hale said.
Hale and Gregg both downplayed the effect her gender will have on the ticket. Earlier this year Lt. Gov. Sue Ellspermann resigned from Pence's team and he replaced her with Eric Holcomb, a former adviser to Mitch Daniels and former chairman of the Indiana Republican Party.
"It was a governing decision, not a political decision," to choose Hale, Gregg said. "Christina's record speaks for itself."
But Pence may be vulnerable among women voters, especially in light of a strict anti-abortion bill he signed into law a few months ago—a bill that even some Republican pro-life members of the legislature voted against. Hale voted against the law. 
"Whether it was her stand against the tampon tax or her fight for sexual assault victims, Rep. Hale's track record of fighting for women and their families is without comparison," according to a statement for Periods for Pence, a grassroots group that started calling Pence's office with their own period stories after he signed the bill.
Democratic state Rep. Ed Delaney, D-Indianapolis, said Hale is a good selection because she represents a "new generation of leadership" for Indiana Democrats.
"We need people who are sensitive to the issues that young people care about," Delaney said, specifically referencing her positions on environmental issues and sexual assault. "She's got real experience, she's smart and she works hard."
Delaney also said Hale can "surprise and inspire us," something he said Pence is lacking.
Hale, who grew up in Michigan City, said the call from Gregg to be his running mate "is not a call I ever thought I would get."
She became a single mother at 19, and she said she remembers friends and family telling her, "Face it, Christie, you're always going to be a loser."
Hale said she let that fear sink in briefly before deciding her life was going to be different.
"No matter what happens in life, you have to keep moving forward," Hale said. "That's what Hoosiers need to do. We're going to double down and get to work."
Hale said Wednesday Indiana "was moving forward until Mike Pence came along."
"We can't let one person's personal ideology define Indiana's future even when that person is our governor," Hale said. "John Gregg and I are interested in results—real results people will feel at their kitchen table, in their neighborhoods and in their bank accounts."
Pence congratulated Hale on her selection in a statement Wednesday morning.
"We welcome her to the race and look forward to a spirited debate about continuing Indiana's job growth and soaring economic future," Pence said.
Hale's selection means that she will not run for reelection in her House seat. She said she was "really confident" the party would find a competitive candidate to run in her district.
Please enable JavaScript to view this content.