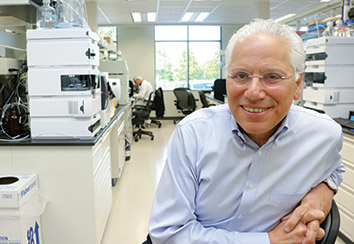 When he needs to get away from it all—long days in the chemistry laboratory, the constant meetings, ringing phones—Richard DiMarchi jumps on his bicycle.
Away from interruptions, he has time to think about the best ways to treat diabetes and obesity, his longtime passions. He often pedals with three or four students from Indiana University or colleagues from one of his many business startups.
"It provides an additional opportunity to discuss science," DiMarchi said. "We'll be out for two or three hours, and we'll be exchanging information as we travel."
Discussing science is something DiMarchi has done for four decades—but he does a lot more than talk. Over the past 13 years, he has founded or co-founded five startups since retiring from Eli Lilly and Co. as head of biotechnology research at age 50.
Along the way, he and his partners have raised millions of dollars in venture funding, hired dozens of employees, set up laboratories and signed deals with major companies, including pharmaceutical giants Merck, Roche, Bristol-Myers Squibb and Novo Nordisk.
And when it came time to sell, DiMarchi and his backers reaped more than $500 million.
"Richard is a true entrepreneur," said Jack Pincus, president of BioStrat Consulting, an Indianapolis life sciences consulting firm. "He's able to see a problem, understand how it needs to be solved, and put together the effort and resources to solve it efficiently."
Now at age 63, DiMarchi is settling in for his latest big challenge: setting up a brand-new laboratory for European drugmaker Novo Nordisk at Purdue Research Park near the Indianapolis International Airport, an effort still in its early stages.
As site director, he oversees about two dozen Novo Nordisk researchers who spend their days purifying and synthesizing peptides—compounds of amino acids linked in a chain—to see if they might be useful in treating diabetes and obesity.
"People ask me, 'Do I plan to retire?' 'Have I retired?'" DiMarchi said. "And my answer is that I did that once, from Lilly a decade ago, and it didn't seem to take."
Frenetic pace
The pace of his career, in science and business, resembles a blur of a person driven to seize opportunities at full throttle.
One week after leaving Lilly in 2003, he and two other scientists founded a biopharmaceutical company in San Diego called Ambrx that uses proteins to treat metabolic-related diseases. That company was later sold to a Chinese consortium.

During the same time, DiMarchi started his new full-time job as chemistry professor at IU in Bloomington. He has taught biochemistry to more than 1,000 students.
But he seems to have little patience for idle conversation or pure science. He wants to know how advances in chemistry can treat the epidemic of diabetes, a scourge that affects more than 400 million people worldwide, causing more than 1 million deaths a year, along with countless cases of blindness, kidney failure, heart attacks, stroke and lower-limb amputation.
He also wants to find a cure for obesity, a condition often associated with diabetes. Over the years, he has won more than 100 patents, many related to diabetes research.
"He feels it's his God-given mission to help diabetes patients improve their lives through what he can do," said Fritz French, who co-founded several companies with DiMarchi. "He drives himself really, really hard. He is thinking and working all the time."
Career track
DiMarchi grew up in Brooklyn and still speaks with a hint of a New York accent. On his office wall, he has a framed photograph of former Yankees Whitey Ford and Yogi Berra.
As a post-doctoral fellow at Rockefeller University in the early 1980s, he was mentored by Bruce Merrifield, a biochemist who would go on to win the Nobel Prize in chemistry in 1984.
DiMarchi began his career at Lilly as a research scientist in 1981, and would spend the next 22 years in Lilly labs, mostly focused on diabetes research. His background was in proteins and peptides, then a small part of pharmaceutical research.
"Quite frankly, the industry wasn't interested in it," he said. "It was a backwater."
But that would change. Biotechnology—the use of living systems and organisms to make products—would soon begin to boom.
At Lilly, he discovered the rapid-acting insulin Humalog, which became a blockbuster product. He contributed to development of other medicines, including the osteoporosis drug Forteo and insulin Humulin.
At age 50, DiMarchi was ready for a new challenge as a chemistry professor and entrepreneur.
But it's been a long, often painstaking process. Science, by its nature, has long timelines. Research can take decades to turn into products. So far, DiMarchi's companies have launched only one product, a drug for helping the immune system of cows. Numerous other compounds are advancing through the pipeline at biotechs and at large pharmaceutical companies, including Merck.
Setbacks in the corporate world have delayed progress as well. One example: In 2010, DiMarchi and his partners sold one of his companies—a 5-year-old Carmel startup called Marcadia Biotech Inc.—to Swiss pharma giant Roche for $287 million.
The hope was that Roche would advance Marcadia's large-molecule research to treat metabolic diseases such as diabetes and obesity.
But just three years later, Roche suffered several late-stage setbacks with its own pipeline of conventional small molecules. The Swiss company decided to leave the disease area to focus on its core oncology business.
"That was an unfortunate happenstance for us, because our molecules were advancing clinically, and doing well," DiMarchi said.
Serial entrepreneur
He didn't like the idea of his technology remaining idle. So acting quickly, he co-founded a company in 2014 called MB2 (for Marcadia Biotech 2) to buy back the Marcadia assets, including the clinical-stage candidates abandoned by Roche.
It's not like he wasn't busy enough already. Just a year earlier, he had co-founded a company called Calibrium LLC, which was formed to commercialize his work at Indiana University, primarily focused on insulin.
Soon, Denmark-based Novo Nordisk got interested in MB2. It made an inquiry: Was DiMarchi interested in working with that company?
For DiMarchi, it was an unexpected decision. As a diabetes researcher at Lilly, he had competed head-to-head with Novo Nordisk, one of the world's biggest makers of diabetes drugs.
"Obviously, I've known of them," DiMarchi said. "They've known of me. We've been competing for periods measured in decades."
In the course of talking through a deal, it became clear Novo wanted DiMarchi's attention focused on its cardiometabolic research. He couldn't keep doing insulin research on the side, either at IU or for Calibrium.
Eventually, a deal was struck: Novo would buy both MB2 and Calibrium for an undisclosed price. DiMarchi would join Novo and set up an Indianapolis laboratory for the Denmark-based company.
He would spend most of his time at the new lab, but would continue at IU for about one day a week, where he could do research on any area except diabetes and obesity.
DiMarchi said he's delighted with the challenge, but the paradox isn't lost on him.
"As you might imagine, it's a bit ironic for me to have done the best of my career work at Lilly and IU, and now be working for Novo at Purdue Research Park," he said with a laugh.
Over the years, he has reaped wealth for himself and his backers. He owns houses in Carmel and La Jolla, California, and a condominium in Bloomington.
One of his earliest venture investors, John Diekman of 5AM Ventures in Menlo Park, California, said he has sunk $20 million into various DiMarchi ventures and some of them have returned more than seven times his investment.
He said DiMarchi's secret, in addition to being an accomplished scientist, is that he instinctively understands the clinical applications of his research, perhaps a skill he picked up as a Lilly researcher.
"He understands what patients need," he said. "He has the ability to convert science into a practical use. He can see all the way to the end and has a very good understanding of clinical medicine."
And that, say some life sciences advocates, is exactly what Indiana needs more of.
"He is unique is so many ways," said David Johnson, CEO of BioCrossroads, a life sciences development group. "I wish we had 10 Richard DiMarchis."•
Please enable JavaScript to view this content.